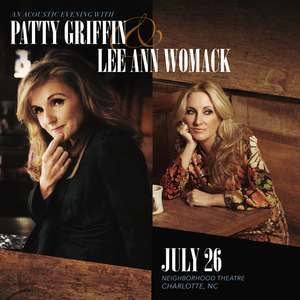 Buy Tickets Now
If you prefer to buy tickets over the phone, please call: 704.372.1000
PATTY GRIFFIN & LEE ANN WOMACK
Jul

26

, 2017
•
Neighborhood Theatre
$29.84 in advance - $3 Under 21 Surcharge at Door - Valid ID Required for entry (under 18 permitted with parent)
Overview
PATTY GRIFFIN
The first quiet piano notes of the title track of Patty Griffin's new album, Servant Of Love evoke a sense of mystery. "I want to live by your ocean/Moved by the waves/No one can see." Go further into this haunting, jazz-steeped meditation, and that sense turns into a spell. With lulling piano, fathoms-deep bowed bass and improvisational trumpet floating above like a swooping gull, Griffin conjures the call of the depths in literal and metaphorical terms ("words from the deep, calling to me…") and invites us on her odyssey to answer that call.
Very much in the traditions of American transcendental writer Ralph Waldo Emerson, and mystical poets like Rumi and Rainer Maria Rilke, Patty Griffin grounds her themes of love and mystery in the experience and rhythms of the everyday, the stuff of life. Servant Of Love takes on big ideas, but does so in the vernacular of folk tales, blues cants and jazz gestures. Griffin's characteristic expressive vocals—equal measures passion and poignancy—and her potent songwriting blur the lines between the personal, the spiritual and the political. These songs move and persuade while they dive deep.
In case we think a pilgrimage into mystery is some esoteric undertaking, Griffin pulls us by the collar down into the greasy juke joint of songs like "Gunpowder," where the most craven desires of the human animal hold sway. "Robbing cradles and the graves/Just realistic, not depraved…/…Draining rivers till they're dry/I just like to, I don't know why." Explore the human heart, Griffin seems to say, and you will find darkness.
LEE ANN WOMACK
Progressive traditionalist Lee Ann Womack has sung for Presidents, the Concert for the Nobel Prize and Maya Angelou's Celebration of Joy Rising. More importantly, the Grammy-winner built a career seeking songs that slice life wide open to let the pain, the emptiness, the rage and the desire pour out.
A Country Music Association Female Vocalist of the Year, she's also won the prestigious Album of the Year for There's More Where That Came From, plus a pair of Single of the Years for "I May Hate Myself in the Morning" and "I Hope You Dance." I Hope You Dance sold over 6 million albums; the title track topped multiple charts in multiple formats around the globe.
The East Texan is a duet partner of choice for Willie Nelson, Alan Jackson, Dr. John, Ralph Stanley, Buddy Miller, George Strait, Jim Lauderdale and Willie Nelson. A featured vocalist on Miller's Silver Strings project, Rodney Crowell and Mary Karr's Kin and music supervisor Randall Poster's critically acclaimed Divided & United, Womack's soprano has a purity that rivals Dolly Parton and an ache that suggests Emmylou Harris at her most haunted.
Event Showings
Click the calendar icon below to add the event to your calendar.
This event has already occured.