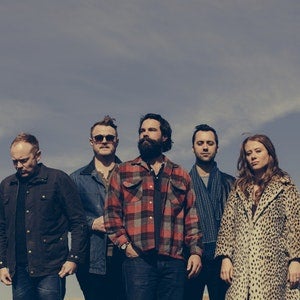 Buy Tickets Now
If you prefer to buy tickets over the phone, please call: 704.372.1000
THE LONE BELLOW
Nov

7

, 2017
•
Neighborhood Theatre
$16.78 in advance - $3 Under 21 Surcharge at Door - Valid ID Required for entry (under 18 permitted with parent)
Overview
Then Came the Morning, the second album by the Southern-born, Brooklyn-based indie-folk trio the Lone Bellow, opens with a crest of churchly piano, a patter of drums, and a fanfare of voices harmonizing like a sunrise. It's a powerful introduction, enormous and overwhelming, as Zach Williams, Brian Elmquist, and Kanene Pipkin testify mightily to life's great struggles and joys, heralding the morning that dispels the dark night: "Then came the morning! It was bright, like the light that you kept from your smile!" Working with producer Aaron Dessner of the National, the Lone Bellow has created a sound that mixes folk sincerity, gospel fervor, even heavy metal thunder, but the heart of the band is harmony: three voices united in a lone bellow.
"The feeling I get singing with Zach and Brian is completely natural and wholly electrifying," says Kanene. "Our voices feel like they were made to sing together."
Long before they combined their voices, the three members of the Lone Bellow were singing on their own. Brian had been writing and recording as a solo artist for more than a decade, with three albums under his own name. Kanene and her husband Jason were living in Beijing, China, hosting open mic nights, playing at local clubs and teaching music lessons. Zach began writing songs in the wake of a family tragedy: After his wife was thrown from a horse, he spent days in the hospital at her bedside, bracing for the worst news. The journal he kept during this period would eventually become his first batch of songs as a solo artist. Happily, his wife made a full recovery.
When Kanene's brother asked her and Zach to sing "O Happy Day" together at his wedding, they discovered their voices fit together beautifully, but starting a band together seemed impossible when they lived on opposite sides of the world. Brian soon relocated to New York and Kanene moved there to attend culinary school a couple years later. The three got together in their new hometown to work on a few songs of Zach's, he'd been chipping away at the scene as a solo artist for awhile by then. After hitting those first harmonies did they decide to abandon all other pursuits. Soon the trio was playing all over the city, although they considered Rockwood Music Hall on the Lower East Side to be their home. They opened for the Civil Wars, Dwight Yokam, Brandi Carlile and the Avett Brothers, and their self-titled debut, produced by Nashville's Charlie Peacock (the Civil Wars, Holly Williams) and released in January 2013, established them as one of the boldest new acts in the Americana movement.
Event Showings
Click the calendar icon below to add the event to your calendar.