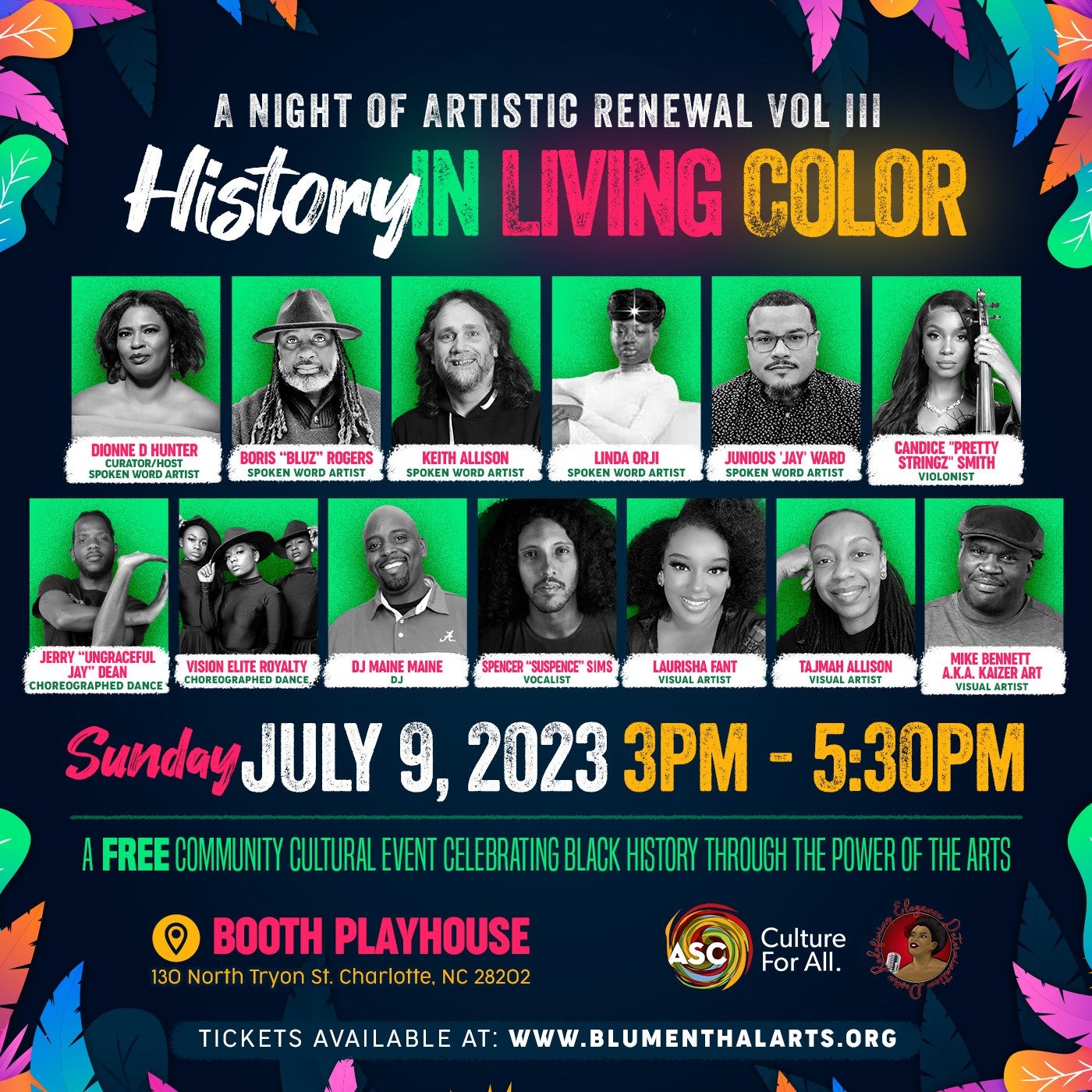 Buy Tickets Now
If you prefer to buy tickets over the phone, please call: 704.372.1000
A Night of Artistic Renewal Vol. III - History in Living Color
Jul

9

, 2023
•
Booth Playhouse
Pricing:

Free

Presented by:
Overview
Get ready to witness an unforgettable celebration of Black History, Excellence, the Fine Arts and Family-Friendly entertainment at "A NIGHT of ARTISTIC RENEWAL Vol III: History In Living Color," presented by distinguished spoken word artist and author Dionne D. Hunter.
This highly anticipated event will showcase a talented line up of exceptional artists, including Emmy Award-winning spoken word artist Boris "Bluz" Rogers, Charlotte's Poet Laureate Junious 'Jay' Ward, and marvellous spoken word artists Keith Allison and Linda Orji.
But that's not all - the event will also feature electrifying choreography from Vision Elite Royalty Dance Studio and Jerry Dean aka "Ungraceful Jay," a breath-taking musical performance from the internationally renowned violinist Candice "Pretty Stringz" Smith, and the extraordinary vocal talents of Spencer "Suspence" Sims.
Additionally, visual artists Laurisha Fant, Tajmah Allison and Mike Bennett will showcase their incredible artwork.
This family-friendly event is not to be missed, designed to educate, stimulate, and entertain people of all ages and backgrounds, it will be especially inspirational for today's youth who will benefit from seeing this celebration of Black History and the Fine Arts.
"A Night of Artistic Renewal vol III History In Living Color ", will take place on July 9th, 2023, from 3pm to 5:30 pm and is completely FREE - but tickets must be reserved in advance!
You'll have the chance to purchase copies of the artists' works before and after the event, so come prepared to take home a piece of this unforgettable night.
Make sure to mark your calendar and reserve your FREE ticket today to this exceptional evening of artistic expression.
A big thank you goes out to ASC Culture for All., for their generous sponsorship of this event.
We are eagerly looking forward to seeing you there!
...
Learn more about the artists who are participating in History In Living Color. This diverse group of talented individuals showcases various art forms. Below are brief bios of each participating artist.
● Candice "Pretty Stringz" Smith, an internationally renowned violinist, entrepreneur, and educator, is the founder of an after-school program. She has a single called "Mirrors" that is currently streaming on all digital platforms.
● Boris "Bluz" Rogers is a spoken word artist who has won an Emmy Award and has been recognized for his excellence in leadership by the NAACP. He is the Director of Creative Engagement for Blumenthal Performing Arts and the slam master and coach of SlamCharlotte.
● Vision Elite Royalty Dance Studios, owned and operated by Jane Johnson, builds platforms and connections that help dancers grow and collaborate with other artists across the nation.
● Jerry Dean, also known as Ungraceful Jay, is a performing artist and choreographer who instructs at Vision Elite Royalty Dance Company. He has worked with KultureKlash and QC Krump and supports the Carolina Dance committee.
● Linda Orji is a spoken word artist and author originally from the Bronx, now living in Charlotte, North Carolina. She was chosen as a finalist for the 2021 Harvey B. Gantt Center for African American Arts Museum's Spoken Word contest, "Spoken Dreams."
● Spencer Sims, also known as Suspence, is a versatile artist who sings and raps depending on the vibe. He believes in thinking outside of the box and drawing inspiration from the many greats who have come before him.
● Keith Allison is an author and spoken word artist who uses poetry to express his hopes for a more just and compassionate world. He produces and edits a quarterly video poetry collection called "Outdoor Voices in an Indoor World," which brings together many amazing poetic voices. He is also releasing a spoken word album which will be streaming on all digital platforms.
● DJ Maine Maine travels across the USA, bringing music to people wherever he goes
● Laurisha Fant is an artist, poet, and visionary from Charlotte, North Carolina, and the Executive Director of Black Women Network (BWN), a 501(c)(3) that supports Black women entrepreneurs and promotes lifelong learning.
● Tajmah Allison is a passionate visual artist who uses acrylic, watercolor, and ink to convey different emotions. She prefers to showcase her narrative through murals and large-scale public artworks.
● Micheal Bennett, a.k.a. Kaizer Art, is an all-around creative specializing in large scale public art, interactive visuals, portraiture, immersive spaces, and creative directing. As a Charlotte native growing up in the Wilmore community His focus is to create work where art and innovation meet. A born collaborator and "Tour and club dj," Kaizer pulls from every conceivable experience that shapes his landscapes and perspectives.With his ever-evolving approach to art, Kaizer focus is on expanding customary views of creativity and challenging fine-art paradigms by mixing traditional mediums with new approaches.
● Junious 'Jay' Ward is a poet and teaching artist from Charlotte, NC, who has achieved numerous accolades for his work, including being named the National Slam champion in 2018 and the Individual World Poetry Slam champion in 2019. He has authored a book called "Sing Me A Lesser Wound" and is currently Charlotte's inaugural Poet Laureate.
● Dionne D. Hunter is the producer and director of "A Night of Artistic Renewal" and is also a spoken word artist, author of "I am a Dahomey Warrior!", and a video artist whose work has been screened at international film festivals.
● Finally, Jared Aaron Sims, owner of J.A. Red Video Media LLC, provides video and editing services for the event.
Again, make sure to mark your calendar and reserve your FREE ticket today to this exceptional evening of artistic expression.
Event Showings
Click the calendar icon below to add the event to your calendar.
Links & Resources
CarolinaTix.org is not responsible for any information, links, buttons, or pricing on external websites.