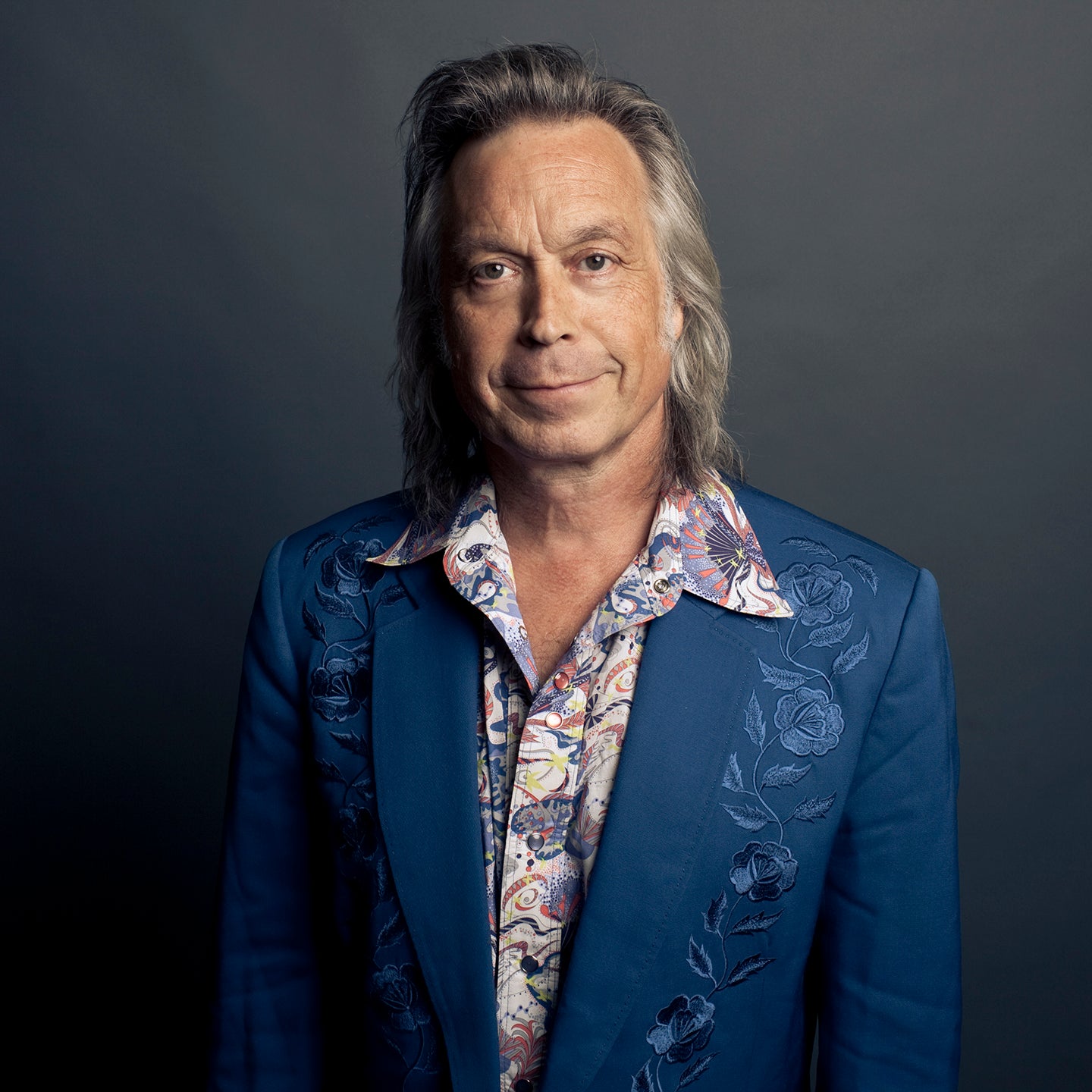 Buy Tickets Now
If you prefer to buy tickets over the phone, please call: 704.372.1000
An Evening with Jim Lauderdale
Sep

30

, 2018
•
Stage Door Theater
Pricing:

$22 in advance, $25 at the door.

Presented by:
Overview
Jim Lauderdale's story is a complicated triumph, with a glorious soundtrack.
Here are the first and last chapters of the newly revised edition: His initial recording, with bluegrass innovator Roland White, and his newest effort, the expansive, hyper-melodic Time Flies.
Lauderdale is the son of a preacher, and of a mother who taught public school and played the organ at church.
He was raised in the Carolinas, schooled in bluegrass and the Beatles and worshipful of brothers Everly and Stanley.
He hit Nashville in the hot summer of 1979, at age 22, possessed of prodigious talent, indistinct musical ambitions, and nothing in the way of gold or silver. While country radio stations played pop-leaning hits, Lauderdale sought something other than what was in then-contemporary fashion.
He found a mentor and collaborator in Roland White, whose mandolin work with Bill Monroe, Lester Flatt and the Kentucky Colonels helped revitalize and reimagine acoustic roots music. The elder and junior musicians paired to make an album of close harmony and vivacious beauty, recorded in the basement of banjo master Earl Scruggs.
"Earl would come down and serve us coffee from a silver tray, and he'd be wearing an apron," Lauderdale says. "He wasn't doing that to be funny, it's just what he did. I made cassettes and sent them to bluegrass labels with a handwritten note, and got turned down by everybody."
That album should have, in some hypothetical, just and righteous world, taken its place in bluegrass history with tradition-drenched, progressive-minded classics by J.D. Crowe and the New South, The Seldom Scene, and, come to think of it, the Kentucky Colonels.
Instead, the thing went unreleased, and then the master tapes got lost for 39 years. It was the first bummer in an epic series for Lauderdale. Looking back, it all seems like sweet serendipity. At the time, it just felt like heartache.
More serendipitous heartache and heartening growth would follow. There was a stint in New York, and there were music-making friendships with unknowns who would become well-knowns, like Shawn Colvin and Buddy Miller. There was time in California, where he was a key figure in the burgeoning L.A. country music scene that gave rise to Dwight Yoakam, Lucinda Williams, and many more, and that was foundational in what we now call "Americana" music.
There was a late 1980s album produced by Pete Anderson for Columbia Records. Like the Roland White album, that one didn't come out for decades: Lauderdale was dropped by the label in the weeks before his works' intended release. Anderson, who had already produced Yoakam's initial recordings, said he thought Lauderdale's was the best project with which he'd been involved. No matter.
Corporate politics. Bottom-lines. Lauderdale was good at finding something other than what was in then-contemporary fashion.
He returned to Nashville, at first on occasion and later for what looks like perpetuity, and wound up with a second major label recording contract, this one with Warner Bros. He made an album called Planet of Love , released in 1991 and produced by Rodney Crowell and John Leventhal. That one was deemed commercially unsatisfactory, though it held songs that would be famously recorded by George Strait, Lee Ann Womack, and other heroes of country music.
Then it was on to Atlantic Records, to make a country-rock masterpiece called Pretty Close to the Truth (1994). Then another Atlantic album, and then on to RCA, with every album meriting fist-pump critical reactions that weren't always met with accompanying sales.
"I don't fit anywhere," he said at the time. But he was wrong. He fits everywhere, he just fits differently than others.
"You can always tell who he is when he starts singing," said Dr. Ralph Stanley. "He doesn't sound like anyone else."
George Strait began recording Lauderdale's songs, and featuring them on top-selling albums and a hit movie. Strait has now recorded 14 Lauderdale compositions, all of them fitting in fine and contemporary fashion. The money was good, and soon Lauderdale's parents — the preacher and the teacher — had a lovely mountain home in North Carolina. And Jim Lauderdale became the rarest of commodities: A beloved and respected roots music force whose songs were in country radio favor, recorded by Strait, the Dixie Chicks, Solomon Burke, Patty Loveless, Vince Gill, Blake Shelton and many others.
He won Grammy awards, on his own ( Bluegrass Diaries , in 2009) and with Ralph Stanley for Lost in the Lonesome Pines , in 2004). He won a Lifetime Achievement Award from the Americana Music Association, and became known as "Mr. Americana." He released an astoundingly varied catalog of albums that explores bluegrass, soul, rock and country, and that merited him induction into the North Carolina Music Hall of Fame.
He collaborated with Elvis Costello, Lucinda Williams, Grateful Dead lyricist Robert Hunter, the North Mississippi All-Stars, and George Jones (about whom he wrote a searing ballad called "The King of Broken Hearts).
There's a thing called a Pyrrhic victory, which is where a battle won leads to a loss in the war. Jim Lauderdale's career is quite the opposite: He lost a thousand battles, and won the war. He won it with melody and kindness, and with an idiosyncratic and undeniable charm.
Recently, Lauderdale was at the Station Inn, the world's most storied bluegrass tavern. Roland White came to see him, and casually mentioned, "I think my wife found the tapes to our album, in a box in the basement."
Indeed, she had. Quarter-inch, reel-to-reel. A journey's beginning. "February Snow" and "Nashville Blues."
Meanwhile, Lauderdale was working on new songs, with new-century music heroes like Chris Scruggs, Kenny Vaughan, Jay Weaver, and John McTigue. Those songs became an album called Time Flies.
And time does fly, though it often seems to creep.
And heartache can be serendipitous.
And a life well-lived is a complicated triumph.
And Jim Lauderdale is an American music-master, and the author of a soundtrack both glorious and expansive.
We'd be sort of dumb not to listen. And, so, let's listen. Time flies. Music sustains.
Peter Cooper
East Nashville, TN
Event Showings
Click the calendar icon below to add the event to your calendar.
This event has already occured.