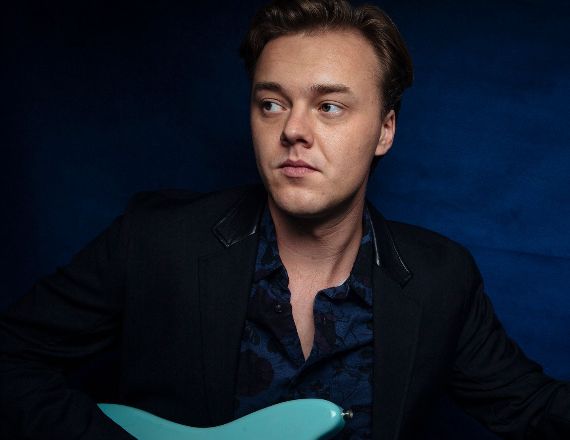 Buy Tickets Now
If you prefer to buy tickets over the phone, please call: 704.372.1000
An Evening with Parker Millsap
Mar

30

, 2019
•
Stage Door Theater
Pricing:

$18 Advance, $22 Day of Show

Presented by:
Overview
Parker Millsap didn't know not to sing like this. Listening to old albums as a kid alone in his room, he didn't realize howling like a Delta blues ghost readying the world for rock-and-roll isn't a how skinny white boy from Purcell, Oklahoma usually sounds.
"I was listening to records from the 20s and 40s, and the voices that came out were otherworldly," Millsap says. "I was really attracted to that. At the same time, I grew up doing congregational singing in church––you know, everybody stands up, grabs a hymnal, turns to number 162, and sings 'I'll Fly Away' at the top of their lungs. I learned to sing in that context, where nobody's listening to you. We are all just singing."
People not listening to Millsap could only last so long––not just because the arresting power of his voice cuts through any crowd, but also because the 22 year-old is always reaching for something worth saying.
New album The Very Last Day (Okrahoma Records/Thirty Tigers) proves an ideal vehicle for Millsap's message, delivered via gospel-tinged rock-and-roll poetry. In the midst of a world so fond of condemnation as entertainment, Millsap offers open-armed love of people and their stories. Whether he's singing from the perspective of a young gay man longing for his evangelical father's acceptance, or as the King of the Underworld wild with passion, his character-driven songs mine deep wells of joy and despair to create gut-punching narratives that are sometimes hellish, sometimes heavenly, and always human.
The Very Last Day is the anticipated follow-up to his 2014 eponymous record, which netted him high-profile praise from NPR, the Wall Street Journal, USA Today, and others, as well as a nomination for Americana Emerging Artist of the Year. Millsap is young, but he isn't green. He has been playing in bands since junior high and recording since he was 16. "For a long time, we'd go play gigs around Oklahoma and Texas, and there was not a lot of press," Millsap says, reflecting on recent accolades. "I just thought, 'I like doing this more than I like working construction.'" He laughs and pauses. "When people started noticing, there was this new, weird pressure."
Millsap responded to the pressure by assembling a cast of new and old friends and heading to the studio. "We got to go make a record that I didn't think I'd ever have the opportunity to make," he says, before adding with characteristic sincerity, "I got to make a really cool album with my friends. And I'm grateful."
Produced by Gary Paczosa (Alison Krauss, Dixie Chicks, Dolly Parton) and Millsap, and engineered/mixed by Paczosa and Shani Gandhi, The Very Last Day was recorded at Dockside Studio in Maurice, Louisiana. Millsap recently moved to Nashville from Guthrie, Oklahoma, but while recording, he lived at the Louisiana studio with musicians including fiddle player Daniel Foulks, drummer Paddy Ryan, and bassist Mike Rose, the latter of whom has been his best friend and bandmate since middle school.
Millsap wrote all but one of the eleven songs on The Very Last Day. The album demands serious solitary listening even as it begs to be the soundtrack for a weekend roadtrip with friends, and clearly delights in having it both ways. The trio of devilish fiddle, poignant acoustic guitar, and thundering upright bass that originally won audiences over is now joined by a chorus of instruments including percussion, piano, and Millsap himself on growling electric guitar that until this record, he'd only dreamed of incorporating. And of course, Millsap's haunting voice is on magnificent display: it's wickedly guttural but can turn on a dime to hypnotically soothe listeners like a songbird.
Event Showings
Click the calendar icon below to add the event to your calendar.
This event has already occured.