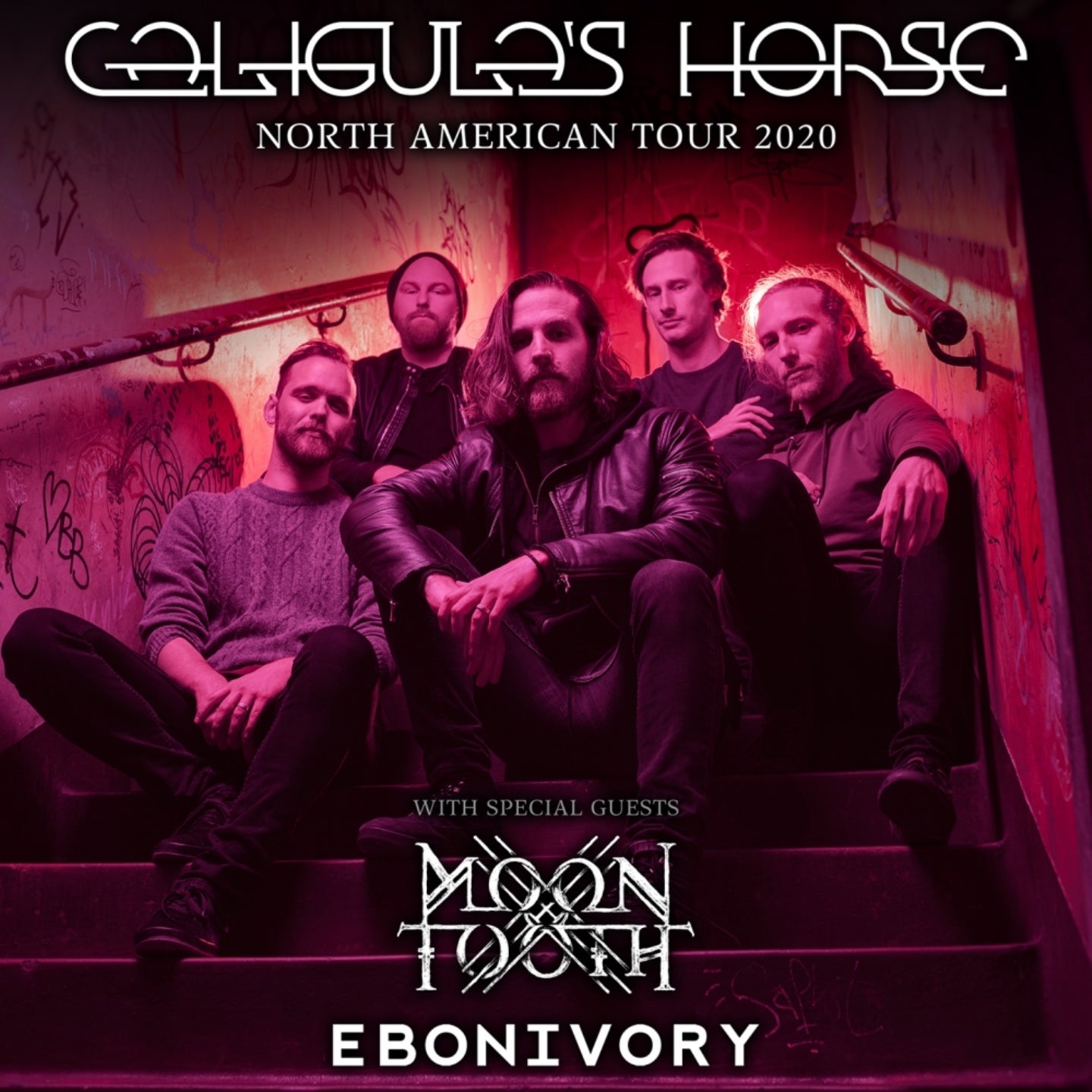 Buy Tickets Now
If you prefer to buy tickets over the phone, please call: 704.372.1000
Caligula's Horse
May

30

, 2020
•
Neighborhood Theatre
Pricing:

$20 in advance - $3 Under 21 Surcharge at Door - Valid ID Required for entry (under 18 permitted with parent)

Presented by:
Overview
CALIGULA'S HORSE
Hailing from Brisbane, Australia, Caligula's Horse is a progressive alternative rock powerhouse. Their unique tapestry of progressive metal laced with raw rock power is at once fluid, monumental, and striking, offering a wide audience a broad palate of unforgettable moments and timeless music.
Now established as one of Australia's finest live acts and at the forefront of its progressive rock scene, September 15th 2017 will see Caligula's Horse release their fourth record In Contact, an immense conceptual work discussing the nature of art and creativity, a celebration of what connects us as human beings – the shared space across our many differences. Told over four separate chapters, it is an album full of deeply personal stories, characters with their own bittersweet hope and tragedy. This album is yet another leap forward for Caligula's Horse – steeped in their now-signature ambitious and colourful sound but with a new-found ferocity, In Contact will leave audiences breathless.
Formed in 2011 by Sam Vallen and Jim Grey, Caligula's Horse unleashed their vivid debut Moments from Ephemeral City in the same year. An evocative and powerful unveiling of the dynamic and cohesive songwriting partnership, "Moments" was a commanding charge into modern progressive music: energetic, eclectic, and poignant. Going from strength to strength, The Tide, The Thief & River's End was released in 2013, and was received with international acclaim. A dark, eloquently woven concept album, the narrative explores isolation, exodus, and the power of the human spirit. The release of "Rivers End" piloted the group to perform with such luminaries of the international progressive heavy landscape as Opeth, Mastodon, The Dillinger Escape Plan, Protest The Hero, The Ocean, Twelve Foot Ninja, and Ne Obliviscaris.
In 2015, after signing with the prestigious German record label Inside Out Music, and joining the roster of AMF Publishing in the UK, Caligula's Horse released their vibrant and emotional third album Bloom. Bloom reached the heights of #16 on the Australian Albums ARIA Chart, and #2 and #7 on the Australian iTunes Metal and Rock Charts respectively. Metal Injection (USA) proclaimed they "evoke a striking amount of greatness", while PROG Magazine (UK) stated "they are sounding ever more like they just need an arena to fill". Bloom saw the group embark on an extensive first tour of Europe alongside Shining (Norway), win the 2016 Queensland Music Heavy Award for their track 'Marigold', and complete five Australian tours; including national dates with Opeth, TesseracT, and sleepmakewaves, as well as headlining Melbourne's iconic Progfest Festival.
In June 2017, Caligula's Horse advanced to Europe for a second time; including support slots with Opeth, Anathema and Pain Of Salvation, UK headline shows and festival appearances at Midsummer Prog Festival (Netherlands) and Be Prog! My Friend Festival (Spain). To coincide, Inside Out Music reissued the band's first two albums Moments From Ephemeral City and The Tide, the Thief & River's End worldwide.
MOON TOOTH
From Long Island, New York, Moon Tooth set the bar high with their 2016 debut full-length, Chromaparagon – a fusion of rock, metal, and blues, that bursted with color. Drawing comparisons to Mastodon, Gojira, and Living Colour, Chromaparagon's aggressive, progressive sound possessed a soulfulness and swing that set it apart from the pack. Premier Guitar described the album with these words: "Unbridled turbulence. Dexterous metal riffing. Soulful vocals over layers of melodies and shifting rhythms... An epic journey through countless sonic realms."
In the wake of that fiery debut, the next three years saw Moon Tooth amass over 1 million Spotify streams, and play their 400th show by way of tours with Intronaut, Fit For An Autopsy, Astronoid, and more.
2019: the band now gears up for its next chapter. With pre-production handled by the dream team of Machine (King Crimson, Every Time I Die) and Lamb of God's Mark Morton, and production by Moon Tooth drummer Ray Marté, sophomore album Crux harnesses Moon Tooth's formidable musicianship into its strongest material to date.
With chops as lethal as those wielded by Moon Tooth's four members – Marté, guitarist Nick Lee, bassist Vincent Romanelli, and vocalist John Carbone – many a band would fall prey to the lure of the jazz odyssey, but Moon Tooth proves its greatness by channeling its skills into concise, crankable anthems. The musical ground covered within just 3-5 minutes on Crux is astonishing, yet the band never loses sight of the big picture. The tech never overshadows the songcraft; Moon Tooth shred like assassins, but only in service of the songs. The result: Crux is an album that belongs equally to the passerby on the street and the musician practicing scales.
Moon Tooth's unmistakable vibe flourishes on Crux: soaring vocals, fleet-fingered axe-slaying, and muscular rhythms (and polyrhythms) combine into glorious, hard-rocking hymns. Crux shows a deep respect for classic rock and heavy metal – Led Zeppelin, Aerosmith, Rush, and Judas Priest are starting points from which the band zooms into outer space, leaving a trail of vivid, heavy, modern rock. Marté's production, boosted by Machine's and Morton's input, puts a world-class shine on the sound, resulting in a feast of metallic crunch and ear-melting hooks.
Crux delivers on all of Moon Tooth's early promise and will send this band hurtling forward along its path. Frontman John Carbone's lyrics address this very situation – reaching the crossroads of a normal life and an artist's life, and choosing to commit to the latter. He explains: "This album is about not giving up. It's about the furious hope that brings fighters back to their feet again and again. Having answered the call to adventure, having grappled with what will surely be only the first set of trials, having sacrificed and lost so much, 'Crux' finds the band at a tipping point. There is nothing left but for the old life to die and the new, true life to begin."
Since the release of 'Crux' Moon Tooth has hit the road with bands such as Animals As Leaders, The Contortionist, Mark Morton (Lamb of God), Light The Torch, and they show no sign of slowing down anytime soon.
EBONIVORY
Hailing from Ballarat in rural Victoria, Australia, Ebonivory creates an engaging mosaic of raw emotion, complex rhythmic devices, and prismatic melody. Formed in 2014 by prodigious composer, multi-instrumentalist and lead vocalist Charlie Powlett, this world class 5-piece ensemble employs a unique distillation of alternative rock, progressive metal, post-hardcore and modern punk, delivering a breathtaking performance that unifies musicians, melomaniacs, and casual listeners alike.
From the first EP "Ebonivory I" (2014), to the full length progressive Australian cult-classic "The Only Constant" (2015), to their most recent EP "Ebonivory II" (2016), Ebonivory has built a reputation in the Australian progressive music scene as an act that consistently delivers music that grows in ambition and scale with each release.
Previously sharing the stage during their high-school years, Powlett is joined by long-time musical collaborators and childhood friends Jake Ewings (guitar), Louis Edwards (guitar, backing vocals), Connor McMillan (bass, backing vocals), and David Parkes (drums, percussion) to deliver a powerhouse of musicianship. Together, the band has embarked on a journey exploring the lyrical concepts of struggle via phenomenal musical grandeur and breadth, interspersed with unforgettable musical moments.
Ebonivory kicked off 2019 with a whirlwind performance at Australia's acclaimed PROGFEST festival, alongside international heavyweights The Ocean, Monuments, and Skyharbor. Soon after, they signed a management deal with Wild Thing Presents (Caligula's Horse), and record deal with Wild Thing Records (Circles). Early-mid 2019 saw the Persistence Australian Tour, which included supporting alt-rock powerhouse Dead Letter Circus. Throughout July & August 2019, Ebonivory traversed Australia with progressive rock juggernaut Circles for The Winter Tour, in support of their single "Patting the Black Dog" which landed coverage with PROG Magazine (UK), Triple J's "The Racket", Spotify's "Homegrown + Heavy" & "Prog Metal Essentials" Playlists, and Rage (ABC TV). Going from strength to strength, Ebonivory headed out on their first ever Australian headline tour in October 2019, in support of their single "Tales of Termina", which similarly garnered an overwhelmingly positive response worldwide.
Event Showings
Click the calendar icon below to add the event to your calendar.