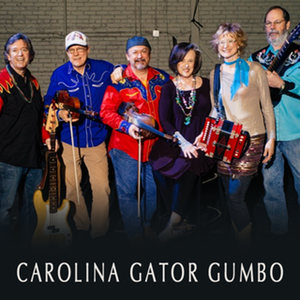 Buy Tickets Now
If you prefer to buy tickets over the phone, please call: 704.372.1000
Carolina Gator Gumbo + Flatland Tourist
Jan

12

, 2019
•
Neighborhood Theatre
Pricing:

$7.46 in advance - $3 Under 21 Surcharge at Door - Valid ID Required for entry (under 18 permitted with parent)

Presented by:
Overview
CAROLINA GATOR GUMBO
This friendly mix of high spirited musicians shares their journey into Southwest Louisiana with their high energy, toe tappin' repertoire. Expect to hear a base of traditional Cajun & Creole arrangements with a bit of country & blues to season the gumbo!

Based in Charlotte NC, Carolina Gator Gumbo originated in the early nineties. They have sought and studied Cajun music, dance and culture with masters; they have received several honors and have made 3 recordings in the process. The line-up currently includes:

Jean Prewitt: button accordion, vocals, harmonica
Trent Van Blaricom: fiddle, vocals, rubboard, triangle
Don Cowan: guitar
Carole Outwater: bass & vocals
Peter Chakales: drums
Matt Haney: lap steel, fiddle
THE FLATLAND TOURISTS
Flatland Tourists - Real, Honest, Red Clay Roots Music. They were raised on it, lived it, believe in it. They all grew up in the rural south and now are based out of Waxhaw, NC.

They've played Americana festivals, venues, and performance centers throughout the Southeast. They've played opening support for national Americana act, Shovels and Rope. Their first EP spent almost two months in the Top Ten on the Roots Music Report charts. Their shows are filled with happy, smiling, dancing people. They have red clay roots and it shows in their music. Flatland Tourists started their musical journey together in 2013, and for them, every day and every gig since feels like a vacation.

One evening in 2013, a local cover band was playing an outdoor show at the water tower in the small town of Waxhaw, NC. It may have been serendipity, blind luck, or just a coincidence that guided Billy Bost, Rachel Garcia, Frank Sutton, Joe Williams, and Kevin Winchester to that show. But that evening, all five of them eventually found themselves standing near the water tower, listening to the other band. Something brought them to that specific time and moment in space. They'd all known of each other for years from playing in other area projects, but had never worked together. A week later, that changed when the first Flatland Tourists rehearsal took place. It didn't take long before they all knew they'd found something special. They focused on writing songs, building harmonies, tightening the band.

Within a few months, they were playing gigs at Americana venues in the Charlotte area. More shows followed, the fan base grew. Mark Williams, Grammy winning producer and engineer (REM, Southern Culture on the Skids, Hootie & the Blowfish) heard them at a show in Charlotte and they soon agreed on his involvement as producer of their first EP. Little King Records released their self-titled debut in 2014. The EP spent 12 weeks in the Roots Music Report Americana Chart Top Ten with the single "No Work, No Pay" rising as high as #2 and staying in the Top Ten Singles chart for 16 weeks, and the single "Cold Water River" rising as high as #3 and staying in the Top Ten Singles chart for 10 weeks. Since then, the band has expanded their venues beyond the Charlotte area; they've played opening support for national acts such as Shovels and Rope, and have appeared at festivals throughout the region like Tennessee's Summer Solstice Festival and the National Whitewater Center's River Jam. Affirming their rise in the genre and popularity in the area, they were nominated and chosen as the winners in the Americana Category for a 2015 Carolinas Music Award.

Their songs are honest and real. Their live shows are just that—lively, and everybody leaves happy and smiling. Yes, their music reflects a wide range of influences: country, blues, bluegrass, jam, early rock, even jazz elements. One common thread is evident through all their influences, though, and that's the band's connection to American roots music. It's the music their parents and grandparents sang to them, played for them, and later, with them. It's evident in their musicianship, the way they blend their harmonies, and even in their song-writing. This band is not a collective of musicians playing Americana music—they've lived it. It's a sound born in their blood and bone, you know that as soon as you hear their first notes, the minute you see them on stage.

Courtney Devores writes in Sound Bites: "Singer Rachel Garcia's soulful, bluesy voice reminds me of Rosanne Cash with a touch of Janis Joplin, but she's really got her own unique emotive sound and phrasing" and that their songs "place the band in the company of Ryan Adams and the Carolina Chocolate Drops' Rhiannon Giddens."

In CD Review, Nancy Pfingstag writes: "Flatland Tourists' debut EP offers the best of Americana—a big tent collection of country, rock, and folk, with a little bit of gospel thrown in for good Southern measure. The band's sound ranges from melancholic and evocative (The Only Thread) to wonderfully, respectfully irreverent (Elvis at the Fast Fare) to foot-stomping blue grass joyfulness (Cold Water River.) The clear vocals and tight harmonies bring to mind Emmylou Harris, Alabama, even CSNY (think Southern Cross), only different. The Flatland Tourists band has its own distinct sound that pays homage to the North Carolina red clay roots of its members. Gorgeous vocals, haunting lyrics, and spartan accompaniment—music to the bare bone."

So, no, the band doesn't think blind luck or coincidence brought them together that evening by the water tower. Not at all. Instead, they know that some form of musical karma, some force in the musical universe brought them together. You can see it when they play live, you can hear it in their music. More than that, you can feel it. They play the music of their southern, roots heritage, the music that courses through their blood and bones. They play it with peace and love in their hearts and nothing makes them happier than sharing it with their fans because, after all, we're all Tourists on this journey, aren't we?
Event Showings
Click the calendar icon below to add the event to your calendar.
This event has already occured.