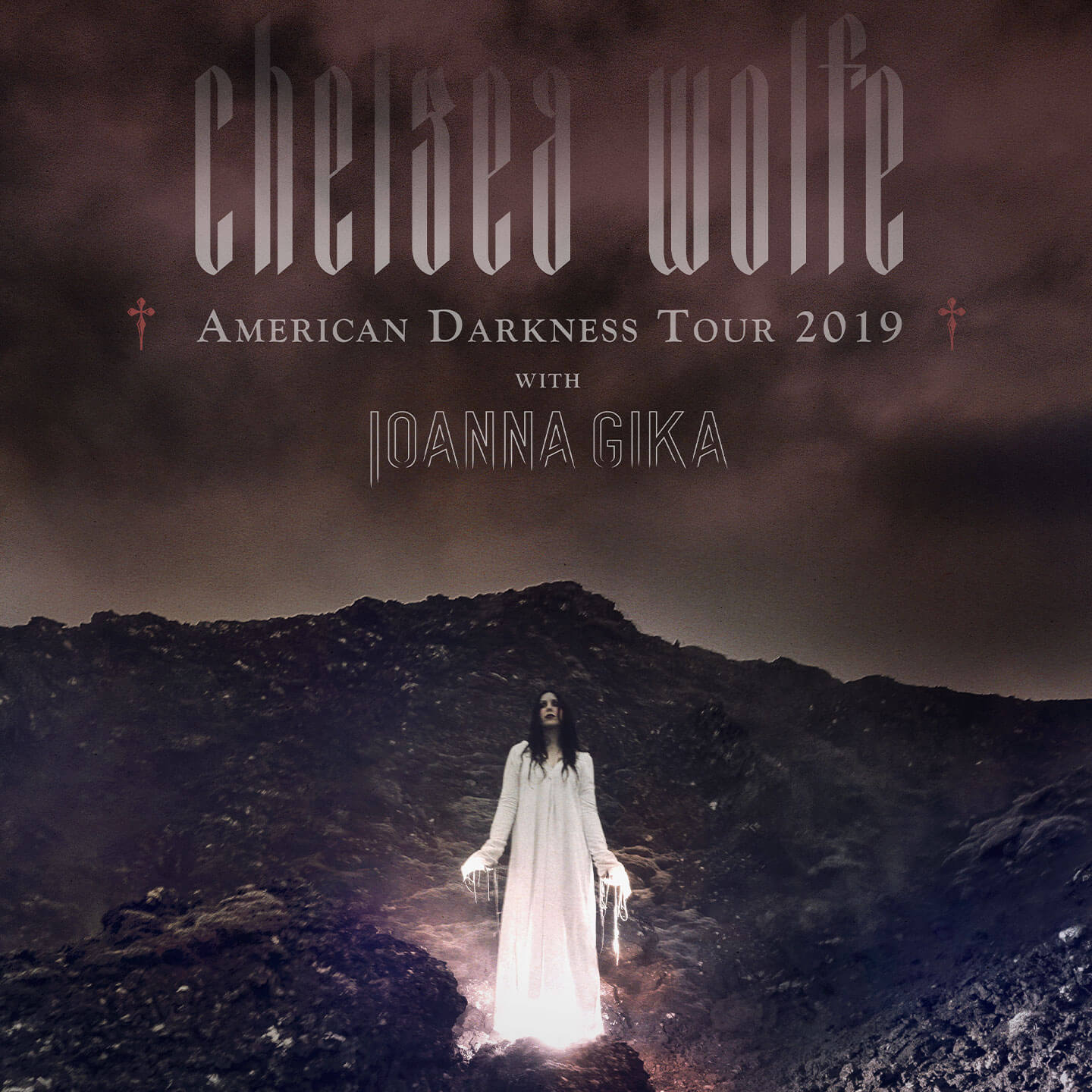 Buy Tickets Now
If you prefer to buy tickets over the phone, please call: 704.372.1000
Chelsea Wolfe: American Darkness Tour 2019
with Special Guest Ioanna Gika
Nov

4

, 2019
•
McGlohon Theater
Pricing:

$25 General Admission

Presented by:
Overview
Chelsea Wolfe has always been a conduit for a powerful energy, and while she has demonstrated a capacity to channel that somber beauty into a variety of forms, her gift as a songwriter is never more apparent than when she strips her songs down to a few key components. As a result, her solemn majesty and ominous elegance are more potent than ever on Birth of Violence.
There is a core element to Chelsea Wolfe's music—a kind of urgent spin on America's desolation blues—that's existed throughout the entirety of her career. It manifested in the lo-fi bedroom recording experiments of her debut album The Grime and the Glow(2010), the electrified dirges of Apokalypsis(2011) and Hiss Spun(2017), the electronic embellishments and distorted growl of albums like Pain is Beauty(2013) and Abyss(2015), and the sparse acoustic arrangements of Unknown Rooms(2012). At the center, there has always been Wolfe's woeful longing and beguiling gravity, though the framework for compositions has continuously evolved based on whatever resources were available. Her austere beginnings were gradually bolstered by electronics and filled out with full-band arrangements. The music became increasingly dense and more centered around live performances. And while these lush recordings have in many ways magnified her power, the elaborate renditions create a dichotomy given the private and isolated nature of her art. Her latest album, Birth of Violence, is a return to the reclusive nature of her earlier recordings, written and recorded in the solitude of her remote home in Northern California.
While the record touches upon tradition, it also exists in the present, addressing modern tragedies such as school shootings in the minor-key lullaby "Little Grave" and the poisoning of the planet on the dark wind-swept ballad "Erde." But the record is at its most poignant when Wolfe withdraws into her own world of enigmatic and elusive autobiography. Much like Alan Ginsberg's hallucinatory long-form poem Howl, the tracks "Dirt Universe" and "Birth of Violence" weave together specific references from her past into an esoteric overview of the state of mankind. The songs describe an internal awakening of feminine energy, a connection to the maternal spirit of the Earth, and a defiant stance against the destructive and controlling forces of a greedy and hostile patriarchy. Though the lyrical minutiae remain secret, the overall power of the language and delivery is bound to haunt the listener with both its grace and tension. In keeping with the general approach of the album, it thrives by culling from the familiar language of American country and folk music while setting it within Chisholm's scenic soundscapes.
Every Chelsea Wolfe album introduces new unorthodox textures and approaches, and the trajectory of her creative arc has generally aimed for larger and more imposing sounds, but Birth of Violence deliberately alters that course in favor of a more intimate atmosphere. "These songs came to me in a whirlwind and I knew I needed to record them soon, and also really needed a break from the road," Wolfe says. "I've spent the past few years looking for the feeling of home; looking for places that felt like home. That was the initial inspiration to record it on our own—between Ben and I, we had all the tools and instruments to capture what we wanted to create." The result of that humble approach yields Wolfe's most devastating work to date. Sargent House is proud to offer Birth of Violence to the world on CD/LP and digital formats on September 13, 2019.
Event Showings
Click the calendar icon below to add the event to your calendar.
This event has already occured.
Links & Resources
CarolinaTix.org is not responsible for any information, links, buttons, or pricing on external websites.