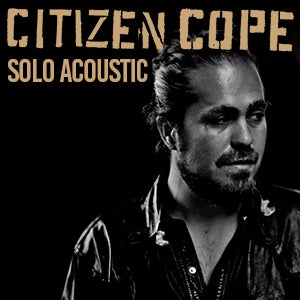 Buy Tickets Now
If you prefer to buy tickets over the phone, please call: 704.372.1000
Citizen Cope – An Intimate Solo/Acoustic Listening Performance
Apr

6

, 2017
•
McGlohon Theater
Tickets

$1.00 of every Citizen Cope ticket purchased will go to purchasing musical instruments for students at Red Lake Middle School in Red Lake, MN. Red Lake is a part of Turnaround Arts, a program of President Obama's President's Committee on the Arts and Humanities that is using arts education to help students succeed. For more info, visit: http://turnaroundarts.pcah.gov.

Pricing:

Prices begin at $29.50

Presented by:
Overview
"Rawness improbably balanced by a mixture of danger and delicacy," says one Rolling Stone writer, "is what gives Citizen Cope his edge. As a singer, songwriter and producer, he stands alone—an artist immune to corruption."
Dug deep into the rich soil of American music, Cope's roots are complex You may think of Bill Withers or Neil Young or John Lee Hooker or Van Morrison or Willie Nelson or Al Green. Yet, listening to Cope, you also may think of none of the above. You may not think at all, but rather feel a man exposing stories that haunt his heart.
He was born Clarence Greenwood, a child of the seventies, and his life journey is as singular as his art. He is the radically mashed-up product of Greenville, Mississippi; Memphis, Tennessee; Vernon, Texas; Austin, Texas; Washington, DC; and Brooklyn, New York. These locations are felt everywhere in his stories. His sounds are southern rural, big sky lonely, concrete urban, and painfully romantic.
In the past nine years, he has produced four albums of depth and distinction, each a critical chapter in his search for a sound that paints an auditory American landscape in which despair wars with hope and hope, tied to love, is elusive.
Cope's musical education was catch-as-catch can. Folk tales—whether through William Faulkner or Big Bill Broonzy—shaped his sensitivity. A few college courses at Texas Tech alternately bored and excited him. In the Austin of the eighties, he took sound classes and found himself fooling with a primitive four-track setup. Turntables intrigued him. He heard hip hop as inspired invention. For years, he got lost in his self-designed lab, cooking up beats and motifs that only later would be shaped into songs.
In the midst of the squalor, grandeur, and hypocrisy of the nation's capitol, Cope set up camp. Vocalist Michel Ivey recruited him as a mad scientist who feverishly concocted samples for the artsy-edgy configuration known as Basehead. As the group hit the road, Cope stayed in the background, moving dials and pushing buttons. Inside his head, he heard stories that still had not assumed full form.
The long night of gestation got even longer. Finally, as the songs gave birth, Cope assumed others would sing them. He had sculpted certain stories and developed certain sounds. As a serious artist with no interest in rock star glory, Cope presumed he'd eventually find the right voice to sing his songs.
The right voice was found. By playing in local venues, the writer/producer ultimately met the only singer equipped to narrate the idiosyncratic stories. That voice resided within his own soul. The writer/producer/singer were one, living inside the wide confines of Cope's vision.
On record the vision is first expressed in Citizen Cope, the debut album from 2002. The artist is still finding his footing and, although his trademark poetry is firmly in place, this is the only record where the production isn't entirely his own. The aural environment is more elaborate, the sound not yet reduced down to the common denominator that we come to know as Cope. The theme, though, is clear—it's "Contact," the cry for a connection to a world that is at once bewildering, necessary, and fraudulent. The issues are serious. "You've got them crooked politicians," he writes, "eating up the treasury and taking our cash to spend on the prisons while the youth they fast." The groove is insistent. "Let the Drummer Kick" is the name of the song that says, "You've got to bust through…mass confusion, solution, conclusion, inspiration is what pulls you through." Busting through, pulling through, getting through to "Salvation," a story in which Judas shows up in DC and takes aim at the singer's soul.
Citizen Cope introduces us to a world of musical worry that doesn't come fully into focus until his second album, The Clarence Greenwood Recordings (2004), which, together with his next two records, form a masterful trilogy. Emotional confusion and musical coherence sit side by side. The "Contact" Cope has been searching for is found, but it isn't easily maintained. The effort to maintain contact keeps us moving into the heart of the mystery, the strangeness of the stories, the lull of the sound.With The Clarence Greenwood Recordings, the sound is stripped of any excess. At the same time, the sound is as big as it needs to be—injected with an urgency that, in the words of the most celebrated song from the album, examines the world "Sideways." "Sideways" caught the attention of Carlos Santana who covered it and asked Cope to perform with him during a European tour. Greenwood is the first of the fully mature Cope statements where, by attaining control in the studio, he can riff on the uncontrollable universe in which we live. The opening line of the opening song—"things have been getting heavy these days"—sets the scene. Cope finds his groove that, with only slight variations, will fuel his tales of seeking hope in hell. The groove becomes a mantra and the mantra, sung in a voice that is both disarmingly sincere and studiously ironic, stops us in our tracks. Cope tracks the relationship between terror, fantasy and reality."Pablo Picasso," for example, is a portrait of a "forty feet tall" woman who requires defense from the law. Her defender is the poet, the singer, the "wild man." "They say a wild man is defending his lady, but for some odd reason, they calling you a painting."Art requires defense. Without art, we can't cope. But Cope's art isn't the high art of elitism; it's the low art of funk. It's the art that paints a penitentiary on fire; the art the gets you through hurricane waters yet puts you between the bullet and target. The voice of the singer—as messy as it precise, as eloquent as it is enigmatic—is half-hoarse, half-hilarious, wholly hypnotic.
Every Waking Moment (2006) is more self-reflection, sly personal and political analysis projected in another suite of free-wheeling stories. Hooks, repeating motifs, and iron-clad choruses anchor the primal production. Cope makes it easy on your ears and demanding on your mind. The heat's turned up—"it's 107 degrees"—and the love is "seven feet deep."
Questions are not resolved in The Rainwater LP (2010). More questions are encouraged. "Keep Askin'," says the song. A "Lifeline" is offered, but not explained. Cope cops to his limitations: "I forgot what the wise man said about that ancient threat." The thread is about survival, the realization of romance, the hope for reconciliation, the strain to connect father and son, life and death, heaven and hell.
While making records over the past decade, Cope has wrestled with a number of record companies. They have loved him, rejected him, readopted him, and ignored him. Listening to his uncompromised songs—to the tough integrity in his voice—it's not surprising to learn that he hasn't hesitated to go over the heads of the music execs. From the get-go, he has taken his case to the people. He has toured tirelessly. He has brought his stories—with a band or simply with his guitar—to whatever venue would have him. His motivation to make music directly in front of people, so matter the size of the crowd, has won his a vast audience in America and abroad. As a troubadour, he has prospered, relentlessly criss-crossing the land, his songs in his back pocket.
In fact, with The Rainwater LP, his self-reliance has been realized in the form of his own independent label. Citizen Cope is a self-realized musical/poetic/production entity. In that sense, his Americanism is profound. His approach is radical. He's a rebel in the tough tradition of Henry David Thoreau and Ralph Waldo Emerson. He wanders through the woods alone. His accountability is to his own heart, his own values and vision.
Cope's a one-man band, trying to make sense of all the nonsense that marks the 21st Century.
Event Showings
Click the calendar icon below to add the event to your calendar.
This event has already occured.
Links & Resources
CarolinaTix.org is not responsible for any information, links, buttons, or pricing on external websites.