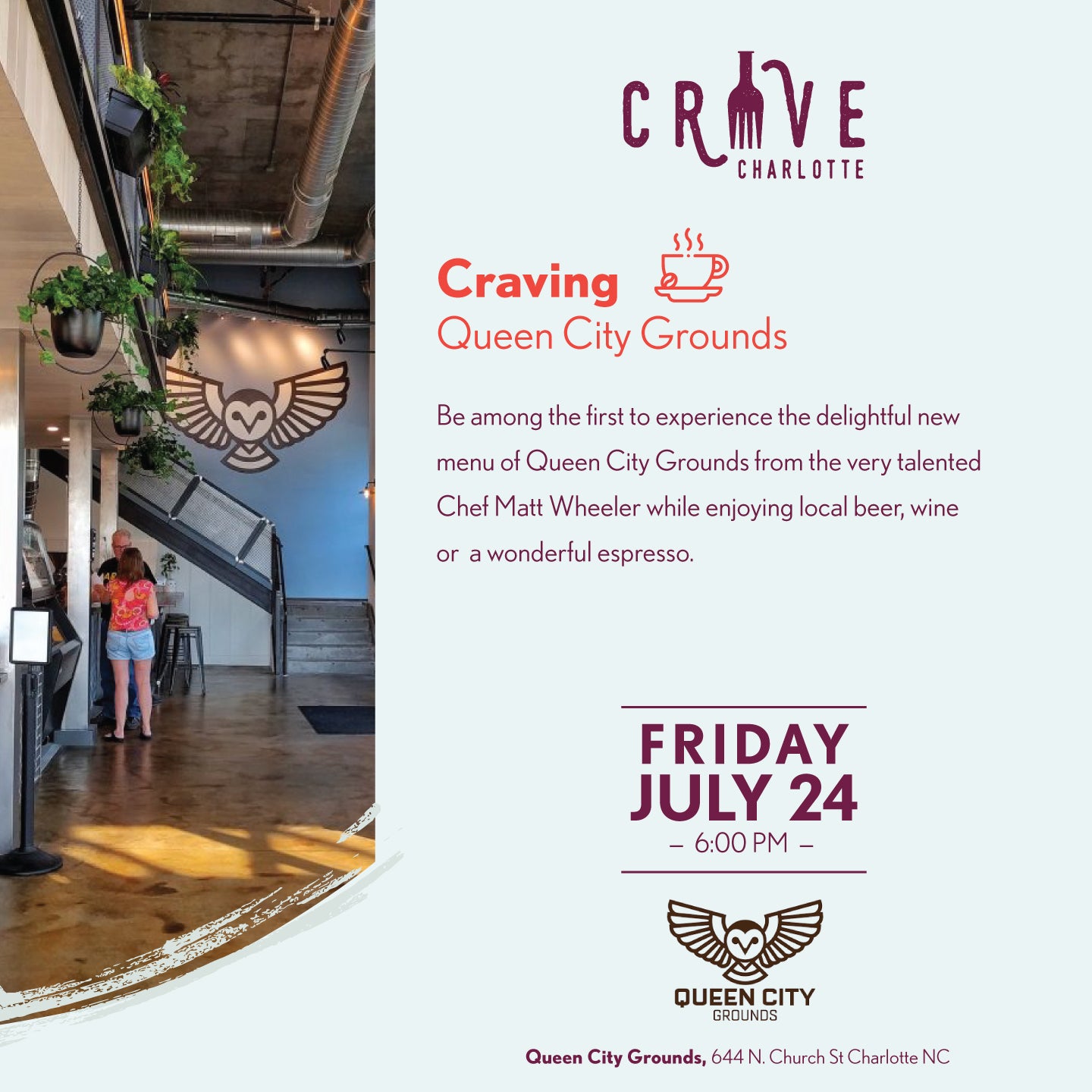 Buy Tickets Now
If you prefer to buy tickets over the phone, please call: 704.372.1000
Craving Queen City Grounds
Jul

24

, 2020
•
Queen City Grounds
Overview
Be among the first to experience the delightful new menu of Queen City Grounds from the very talented Chef Matt Wheeler while enjoying local beer, wine or a wonderful espresso.
Live music vibes provided by members of the Charlotte Symphony.
Tickets sales end 24hrs before the event starts and no tickets will be sold at the events.
Menu:
Choose appetizer:
1. Now That's What I Call Hummus Vol. 4(VEGAN) - Scoop of house-made hummus sprinkled with paprika and olive oil served with carrot chips, pita slices, 'Roots & Branches' rosemary crackers, and Duke's multi grain toast
2. Plain Jane (VEGAN)- Avocado, dusted with salt, pepper, & black sesame seeds finished with organic olive oil on a thick slice of Duke's sourdough toast
3. That's My Jam (VEGAN)- Local seasonal jam spread with house-made granola topped with a local honey drizzle served on a thick slice of Duke's sourdough toast.
Choice of Entree: ( All entrees will come with 1 side. Options at bottom)
1. Choice of Burger
A. Old Crow(VEGAN) - ¼ lb Impossible burger patty with bibb lettuce, tomato, red onion, & house-made cashew spread all on a Duke's potato bun
B. Young Cardinal- ¼ lb Impossible burger patty with corn cob smoked bacon, pepper jack cheese, local pickles, red onions, & spicy mustard on a Duke's potato bun
C. Just Beet It (VEGAN) - ¼ lb Impossible burger patty with house-made cashew basil cheese, red cabbage, carrots, beets, and house-made cashew mayo on a Duke's potato bun
2. Gunship (VEGAN) - House-made hummus, avocado, red cabbage, tomato, green peppers, banana peppers, beets, carrots, & queen sauce served cold in a spinach herb wrap
3. Alexisonfire (VEGAN) - Banh mi with marinated seitan, carrots, cilantro, pickled jalapeños, and firecracker sauce all toasted in a Duke's Baguette
Sides to go with entree
1. Fruit bowl with assorted fruits
2. House-made vegan cowboy chili
3. House salad - Fresh baby spinach, sunflower seeds, smoked bacon crumbles, shredded carrots, shredded beets, and tomatoes served with ranch or Italian vinaigrette.
Capacity: 40
1. All ticket sales will end 24hrs prior to each Crave Charlotte event to allow restaurants to plan for social distanced approved seating
2. Face masks will be required at check in and anytime you are away from your assigned seating
3. Groups of friends larger than six will not be permitted to sit at the same table
4. Tickets are limited to 50% capacity for each restaurant to accommodate health guidelines
5. Restaurants are following sanitation guidelines
Event Showings
Click the calendar icon below to add the event to your calendar.
This event has already occured.