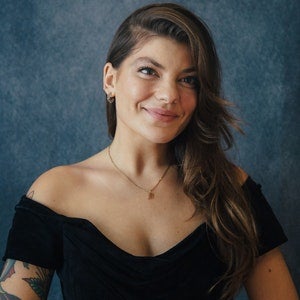 Buy Tickets Now
If you prefer to buy tickets over the phone, please call: 704.372.1000
Donna Missal
Feb

26

, 2019
•
Neighborhood Theatre
Pricing:

$11.19 in advance - $3 Under 21 Surcharge at Door - Valid ID Required for entry (under 18 permitted with parent)

Presented by:
Overview
On her debut album This Time, L.A.-based singer/songwriter Donna Missal shows the elegant collision of elements at play in her music: a poet's command of tone, a soul singer's boundless intensity, a bedroom musician's willful embracing of intimacy and experimentation. Along with channeling the raw passion she first ignited by playing in rock bands in her homeland of New Jersey, This Time expands on the melodic ingenuity displayed in recent singles like "Driving" and "Thrills." Above all the album is a testament to the sheer force of Missal's voice, a dynamic but delicate instrument that achieves a beautifully nuanced expression even as she belts her heart out.

With its title taken from a track Missal co-wrote with her frequent collaborator Sharon Van Etten, This Time is an uncompromisingly honest look at living entirely on your own terms. "I've spent most of my life being hyper-focused on time, which I think is something that a lot of women obsess over," says Missal. "We're in such a rush to make things happen, when really we should take the time to figure out what we actually want out of life. And even though it's so hard to have that kind of patience, I think it's so important to believe in yourself enough to let things develop in a way that feels right to you."

Produced by Tim Anderson (Solange, BANKS, Halsey), This Time matches that defiant spirit with a sound inspired by the rule-bending sensibilities of mixtape culture. Blending elements of soul and hip-hop and rock-and-roll, Missal shaped This Time's sonic landscape partly by laying live recordings down on tape, then sampling those recordings to imbue her songs with a fresh yet timeless energy. Much of that live recording took place at the iconic Different Fur Studios in San Francisco, with the sessions headed up by Missal and Nate Mercereau (a musician known for his work with Leon Bridges). "I really wanted this album to reference my history of playing in bands," Missal points out. "It's all these very pure, talented musicians playing together in a room, but then we took that and sampled it and altered in a way that creates something totally new."

Throughout the album, Missal brings her time-warping but gracefully arranged sound to songs that capture the most specific of emotions. Crafting her lyrics with the kind of idiosyncratic detail that instantly etches each line onto your heart, Missal explores self-empowerment on tracks like "Transformer"—a fiercely charged anthem about "having the courage to take what you want from life, without apology." On "Thrills," with its softly swaying groove and dreamy guitar tones, Missal's voice soars and shatters as she muses on self-love and sexual confidence. "'Thrills' is about owning what makes you real," says Missal. "There is a shift happening in our societal standards of beauty and sexuality, and the more we embrace our flaws the closer we become to effecting real change. I'd love for people to hear the song — and not just women, but anyone who feels disenfranchised— and remember that being sexy and confident comes from self-acceptance."
Event Showings
Click the calendar icon below to add the event to your calendar.
This event has already occured.