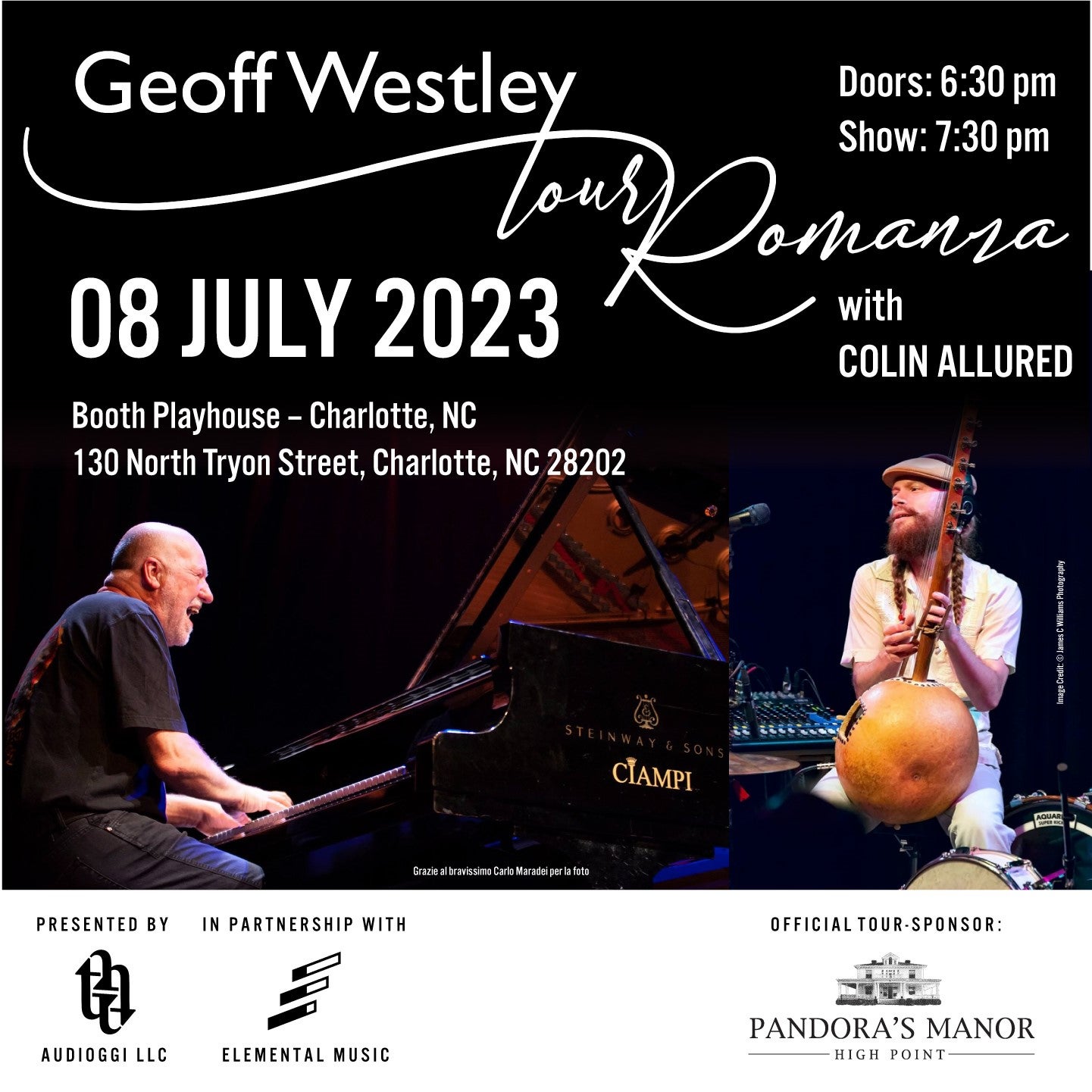 Buy Tickets Now
If you prefer to buy tickets over the phone, please call: 704.372.1000
Geoff Westley with Colin Allured
Jul

8

, 2023
•
Booth Playhouse
Pricing:

$45-65

Presented by:
Overview
Exclusive and historic opportunity for North Carolina to experience a live collaborative music-making - a wealth of expertise in classical composition brought in by Maestro Geoff Westley from Rome and London combined with novelty and experimentation of our own UNCSA alumnus Colin Allured in one-of-a-kind cross-continental collaboration, followed by a dialogue with the listeners.
All the tracks of Geoff Westley's DOES WHAT IT SAYS ON THE TIN album were born as improvisations that he made a few years ago to amuse himself while taking a break from the orchestral scores he was working on at the time. He put the recordings in a drawer and forgot about them. And then he I discovered them again and laboriously transcribed onto written music. A 2nd album of compositions for Solo Piano THE MELLOW ALBUM was published in September 2021. A 3rd Album is currently in preparation.
When not making music, Geoff sails and walks dogs in Sussex and the Pyrenees. He has flown Hot-Air Balloons competitively for Great Britain in World and European Championships, and speaks fluent Italian, reasonable French, adequate Spanish and very rusty German!
Geoff Westley was awarded a Scholarship to the Royal College of Music in London, where he studied Flute, Piano and Composition. At age 23 he was already conducting musicals in the West End of London, including Jesus Christ Superstar.
In the same year he was invited to join the Bee Gees, and was for 7 years their Musical Director on all world tours, performing in prestigious locations such as, Madison Square Garden, Budokan Tokyo, Maple Leaf Stadium Toronto, Central Park New York, and Sydney Opera House.
As keyboard player/arranger, collaborations include: Carpenters / Peter Gabriel /Phil Collins / Leo Sayer / Andrew Lloyd-Webber / Everly Bros / Vangelis / Gerry Goldsmith / Hans Zimmer / Marvin Hamlish / Henry Mancini.
He has collaborated on 2 James Bond films: as keyboard player and conductor on the soundtrack of "The Spy Who Loved Me", and he was the hot-air balloon pilot in "Octopussy".
At the age of 30, he began a long and successful collaboration with a number of Italian artists, that continues to this day. Collaborations include: Lucio Battisti, Claudio Baglioni, Renato Zero, Riccardo Cocciante, Fabrizio de André, Mango, Laura Pausini, Eros Ramazzotti, Lucio Dalla, Fiorella Mannoia.
For the Latin-American market he has produced/arranged for: Victor Manuel, Ana Belen, Pablo Milanes, Fito Paez, Chico Buarque, Chavela Vargas, Antonio Banderas.
Geoff was invited by Claudio Baglioni to be Musical Director for the Sanremo Festival 2018 & 2019 In which he arranged and conducted for guests including James Taylor, Sting and Andrea Bocelli.
As arranger and Conductor he has worked with: London Symphony Orchestra, Royal Philharmonic Orchestra, Philharmonia, Pro Arte, London Chamber Orchestra, Orchestra del Teatro Regio di Parma, Orchestra del Teatro Bellini di Catania, Roma Sinfonietta, Brno Philharmonic, Budapest Symphony Orchestra, Orchestra Filarmonica del Teatro Verdi di Salerno, Orchestra laVerdi di Milano as well as many wonderful London session orchestras.
Colin Allured is in touch with the composers of 300 years ago, and breathing new life into an archaic language of composition with the world's most popular instrument, the electric guitar. Pioneering a "New Baroque" sound using the mathematical field of combinatorics, deep studies into the conventions of the baroque dance suite (the most popular form of instrumental music for 100 years in Europe) and creating a partnership with one of the world's most versatile drums, the Middle Eastern darbuka. He also dreams music on the kamale ngoni, a harp from West Africa made from a gourd and fishing line. It's hypnotic pentatonic nature has the effect of a musical meditation machine.
Colin studied composition with esteemed American composer Keith Gates between ages 12 and 15. Colin was awarded first place for his 4 part choral work "Kyrie" in the MTNACPP Belwin Composition Competition, state and regional levels at age 13, and first place 2 years later for his composition "Sketch for Guitar" at the state level in the same competition. In 1997 he won first place in the American String Teachers Association ASTA North Carolina Competition.
From age 13 to 31 he was lead singer, guitarist and songwriter for "progressive-soul" rock band Thinking Plyers. The band recorded 4 studio albums and toured extensively throughout Louisiana, Texas, Nashville and North Carolina. In his post graduate career he also collaborated with percussionist Charles Wood forming the world music duo Dhamaru. The duo created 2 studio albums and toured throughout North Carolina, New York and New Jersey. This project gave outlet to Colin's intense studies of Hindustani Classical and West African Music. He studied Hindustani vocal music with Madhumita Saha, Indian classical sarod with Gaurang and Laxmikant Doshi, and kamale ngoni (West African Harp) with Mamadou Sidibe.
He and Geoff Westley share an aesthetic in which a learned musician creates from the heart, undistracted by the intellect, works unique to them, offered as flowers to the holy listener.
Event Showings
Click the calendar icon below to add the event to your calendar.