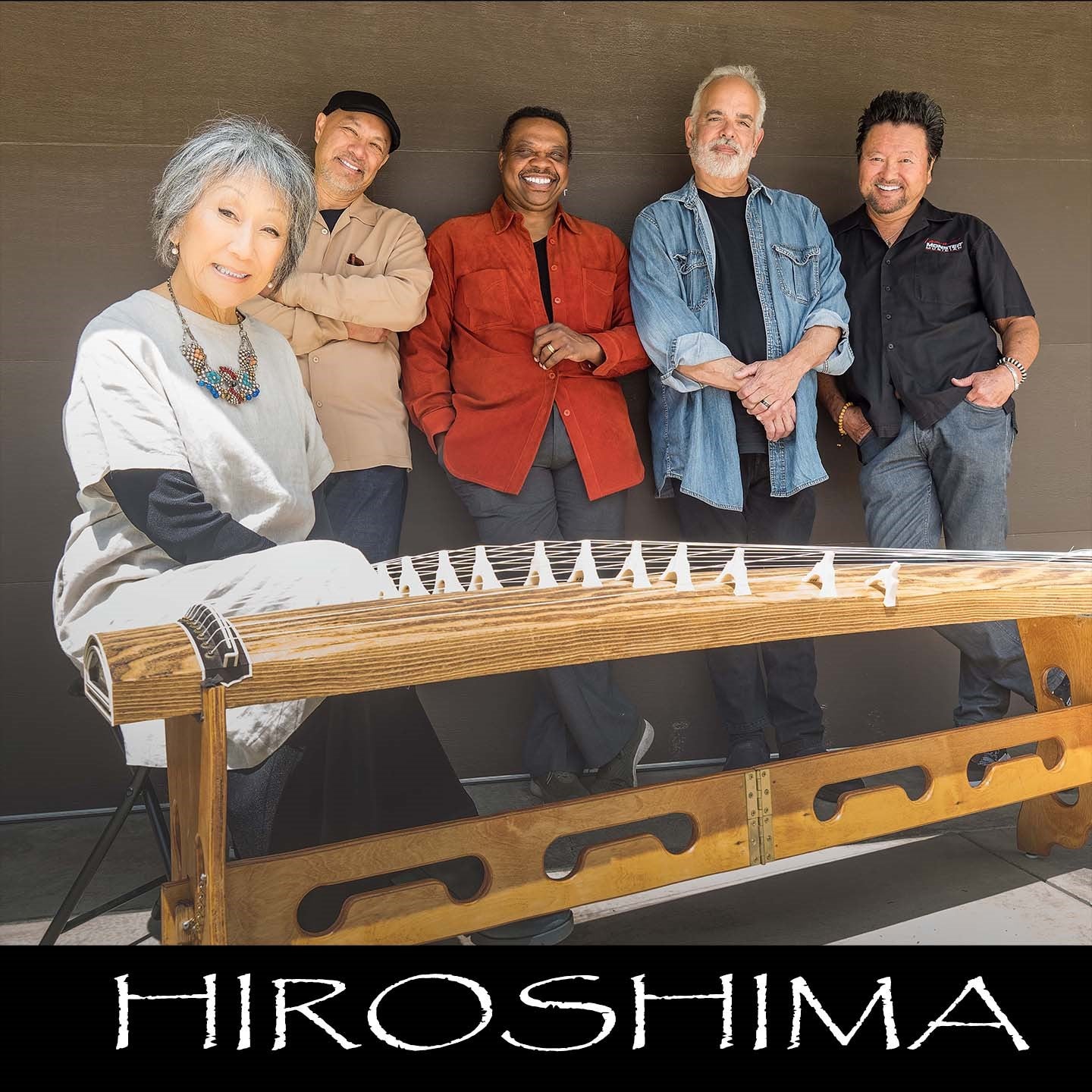 Buy Tickets Now
If you prefer to buy tickets over the phone, please call: 704.372.1000
Hiroshima
Feb

25

, 2022
•
Stage Door Theater
Overview
Jazz N Soul Music & SoundVizion LLC presents the legendary jazz ensemble Hiroshima, The "domo' Tour, Friday February 25th for two shows, at the newly renovated Stage Door Theater. This will be Hiroshima's final traditional concert tour, so it is appropriately entitled "domo" which is "thank you" in Japanese. Don't miss out on this phenomenal night of smooth Jazz and a final opportunity to experience Hiroshima live in Concert!
Stage Door Theater tickets available at Carolinatix.org or the box office.
It's time. Emerging from the surreal events of 2020, Hiroshima embarks on its 40th Anniversary Tour armed with renewed vision and their first new music CD in 8 years, the "2020" Project.
Hiroshima is a Grammy nominated smooth jazz group based in California. The group was formed in 1974 by Dan Kuramoto and June Kuramoto. The double Grammy nominated ensemble features the extraordinary June Kuramoto on koto ("The world's greatest koto player" - Stanley Clarke), leader/producer Dan Kuramoto on winds/shakuhachi, Hawaiian Kimo Cornwell (Al Jarreau/Maze/Kalapana) keyboards, Dean Cortez (Boz Skaggs/Caldera/Willie Bobo) bass, and super drummer Land Richards (Hubert Laws/Gladys Knight/ Earth Wind and Fire/Stevie Wonder/Sonny Stitt).
One of the most unique and engaging American bands, Hiroshima brings its one-of-a-kind mix of Jazz, R&B, Salsa and Eastern sounds, with a diverse program of songs from its over 20 CD's, including global hits like "One Wish" and "Thousand Cranes," with new and inspired music from the "2020" Project. Both early release singles charted solidly in the top 20 of Billboard Jazz Charts with "GrooveLatino" residing in the #2 spot for over 6 weeks.
Hiroshima is about diversity. It's an exploration and celebration of cultures, music, art and the heart. "America's greatest asset is our multiplicity—our cultural richness," says Dan Kuramoto. "We try and embrace it, and the joy in our differences." When Hiroshima toured with Miles Davis in 1990 Miles impressed them with the notion that music is a path that is ever changing.
Hiroshima's debut album sold more than 100,000 copies in its first three months. The band's second album yielded the song "Winds of Change", which received a Grammy Award nomination for Best R&B Instrumental. Hiroshima has released seventeen full length albums. The group earned its first GOLD ALBUM in 1985 with Another Place and a second gold album with Go. The album Legacy was nominated for a Grammy Award in the Best Pop Instrumental Album category in 2010. Hiroshima has sold more than four million albums worldwide.
Hiroshima was given the Visionary Award by EAST WEST PLAYERS, the oldest ASIAN PACIFIC AMERICAN theatre company in the United States, for the band's "impact on the Asian Pacific American (APA) community through their artistic excellence and support of the Asian Pacific American performing arts.
The group's newest single "Watercolors" is currently in radio rotation on Sirius XM and charted on Billboard's Smooth Jazz chart.
Hiroshima continues the journey.
Event Showings
Click the calendar icon below to add the event to your calendar.
This event has already occured.