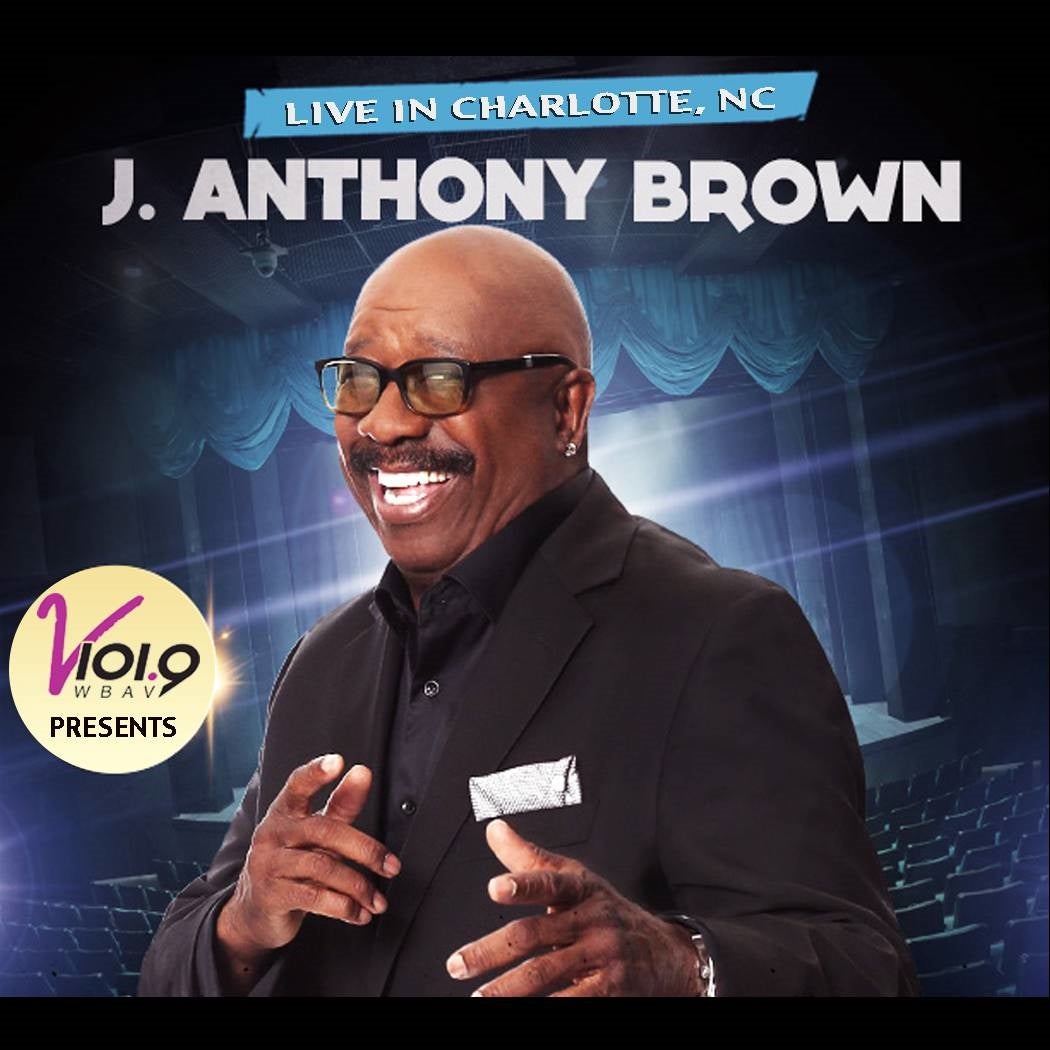 Buy Tickets Now
If you prefer to buy tickets over the phone, please call: 704.372.1000
J Anthony Brown: Just Me Comedy Tour
Jul

20

, 2018
•
McGlohon Theater
Tickets

VIP Meet + Greet tickets include: Meet & Greet, autographed photo, and a picture with J Anthony Brown.

Group pricing is available for groups of 10+

Pricing:

$20 - $45

Presented by:
Overview
Contains adult language.
VIP Meet + Greet tickets include: Meet & Greet, autographed photo, and a picture with J Anthony Brown.
If you hear the words, "Watch Out Deh Now," then you know that it's more than a heed to action, but rather the trademark catcall for funnyman J. Anthony Brown. Brown is a household name because of his work on radio, television and film.
Brown has been a staple on morning radio; first with the nationally-syndicated Tom Joyner Morning Show (TJMS), and now with the Steve Harvey Morning show. He's been a consistent voice waking up millions of radio listeners in more than 100 markets throughout his radio career. He also hosts a countdown weekend radio show, called the "J. Anthony Brown Radio Show," available on iHeart Radio and downloads on iTunes.
Brown is one of the forerunners to today's popular Black comedy scene. His side-splitting antics and sensibilities on the TJMS have set a precedent that many now follow. He's known for "murdering the hits" with his off-key version of the latest song. And when he's not on the radio, he's on the road, generating giggles and laughs from one comedy club to the next..
"A lot of comics just do stand-up. But stand-up is just one of the many facets of comedy. In my act, I ride the spectrum of funny. I'll sing, incorporate skits and vignettes, do costume changes, and still tell you a joke," reveals Brown.
Listeners were finally able to put his name with a face when BET recognized the power of his comedic drive and tapped him to host two consecutive seasons of the top-rated show, "Comic View." Later revamped as "Club Comic View," the show has been the network's number one show for more than 12 years. As a testimony to Brown's drawing power, his season had some of the biggest names in comedy to grace the "Comic View" stage.
But it was Brown's role as Pop on the WB's "Like Family," starring award-winning actress Holly Robinson Pete that garnered the funnyman's mainstream audience. That role, along with a couple of hilarious television commercials for "Champs" and "Burger King" made him a familiar face for America's viewing pleasure.
Just His Luck
As luck would have it, the South Carolina native began his career in entertainment by accident after relocating to Atlanta in 1972. He was pursuing a career as a clothing designer, and found himself $316 short of tuition money. To raise some funds, Brown visited a local club and entered a gong show contest. The one-time tailor was asked back to the venue, and later transformed it into a city hot spot as word of his natural wit traveled quickly. And as they say, the rest is history.
Brown later left Atlanta for Hollywood, landing a job as head staff writer for the ground-breaking, Emmy-winning late night talk show, "The Arsenio Hall Show." Other writing credits include the "Tom Joyner TV Show," "Steve Harvey's Big Time," "Me and the Boys," and "The Parent 'Hood."
On television, Brown's credits include, hosting two consecutive seasons of BET's "Comic View," as well as performances on "Def Jam," "It's Showtime at the Apollo" and "Evening at the Improv." He's guest-starred on such sit-coms as "House of Payne," "Like Family," "The Parkers," "Livin' Single," "Martin," "Moesha," and "The Hughleys. On the big screen, his credits include "XXX: State of the Union" with Samuel L. Jackson and Ice Cube; "Mr. 3000" with Bernie Mac; "Drumline" with Nick Cannon; and "How to Be a Player" with Bill Bellamy.
Building on His Brand
But J. Anthony Brown is more than a man with jokes – he's an fashion designer by trade; an entrepreneur, running a successful comedy club in Los Angeles with his son; and a visual artist, whose work has been shown in selected venues around the country.
In 2005, his artwork was featured along side internationally-acclaimed artist Annie Lee at an art exhibit held in Washington, DC. Just recently, his work was shown at the 2008 National Black Arts Festival in Atlanta, Georgia. And his artwork graces of walls of Gladys' and Ron's Chicken and Waffles, a popular soul food restaurant in Atlanta, founded by Grammy-award winning artist Gladys Knight. Brown has also shared his creative pursuits with the passengers of the Tom Joyner Morning Show's Fantastic Voyage.
As a business man, Brown has his own line of products that carry his name from his own clothing line -- the J. Anthony Brown Collection -- to honey and hot sauces, CDs, and comedy videos.
On a Health Note
In addition, Brown is a spokesperson for diabetes, a disease that he manages personally with diet and exercise. In 2005-2006, he was one of the co-host of DLifeTV, a diabetes talk show promoting healthy living with diabetes. Through the J. Anthony Brown Foundation, he supports kids with diabetes by sending them to a camp each summer.
LET'S GET SOCIAL!
Find me: Visit www.JAnthonyBrown.com
Follow me: @J.AnthonyBrown (personal)
Follow me: @OfficialJSpotComedyClub (comedy club)
Friend me: https://www.facebook.com/j.anthony.brown.7
Event Showings
Click the calendar icon below to add the event to your calendar.
This event has already occured.