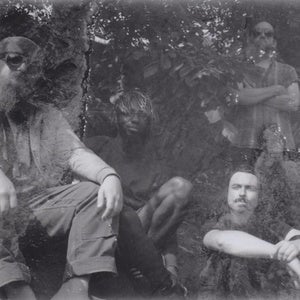 Buy Tickets Now
If you prefer to buy tickets over the phone, please call: 704.372.1000
Jaw Gems
Feb

18

, 2017
•
The Rabbit Hole
Pricing:

$9.32 in advance

Presented by:
Overview
Jaw Gems, an electronic outfit from Portland, Maine, is a collective of young, experimental producers bringing beat-music – traditionally programmed and played on samplers – to a live band setting. The mesmerizing result is a harmonic convergence. Combine legendary beat-makers like J Dilla and Flying Lotus with indie rock and electronic icons like Deerhunter and Washed Out, then add Radiohead's dreamy ambience and you begin to approach the sound of Jaw Gems. "Dilla is the common thread for how we all met and began playing together," says keyboardist Hassan Muhammad. "Not many people in Portland knew about him seven years ago, so through various friends we were all pointed out to each other and we were blessed with the opportunity to hold a weekly residency at a bar, playing all the stuff we liked and getting increasingly weird." Since their start in 2009, the band has been exploring sonic and rhythmic ideas that emphasize interlaced melodies and heavy grooves. First outfitted solely with dueling vintage synthesizers, a drummer, and an electric bassist, Jaw Gems have now incorporated a Roland sp404 and the Juno 106 analog synth, going on to employ the beat- repeating, sample-warping technologies of the present to help create their wall of sound. Armed with new gear, Jaw Gems were able to evolve their beats, trigger intricate samples, and alter sounds in an increasingly advanced way. "You can do so much with these devices, and we all have our own ways of using them," says bassist Andrew Scherzer. This August, Jaw Gems will release their second album, HEATWEAVER, via STS9's. 1320 Records. The 14-tracks create a thickly layered transcendental auditory world – a meticulously crafted collection grounded in a modern electronic aesthetic. HEATWEAVER melds neck-breaking, hip-hop synthesizers and nostalgic atmospheres, while simultaneously touching on elements of psychedelic funk, neo-soul, and punk rock. Jaw Gems likes to keep their recording process relaxed to allow for creative diversity. Setting up shop in a makeshift home studio, the band hunkers down and lets their songs come to life. "We like to make a retreat out if it," says drummer DJ Moore, noting that all of the musicians have been involved in other projects. "Making music is how we chill, and the album naturally unfolded once we were all committed to being in the same place together for some time." The title itself came from thinking of the album visually. "We thought about what images the music evoked throughout the whole process, and when someone said "heat weaver," we all felt it embodied our sound," he says. Put four beatmakers in a room together for a week, and the outpouring of ideas could be endless. "As we develop as individual musicians each of our sounds morph and evolve in different ways, so when we come together to record we all bring something new to build upon," Moore says. "Our creative process is never the same," says keyboardist and sampler Quist. "We tend to refine our ideas in rehearsal, figuring out how to play them as a band, but most of our ideas start off as a beat one of us made. On HEATWEAVER, we let some of our beats stay in a more bedroom beat format, and others we revamped to sound a lot more live." In this case, Jaw Gems was left with a solid compilation attesting to their evolution as tenacious genre-bending producers. "Jaw Gems have done the magic trick of delivering a thoroughly listenable instrumental album that you can also sing along to," says electronic musician Daedelus. Perhaps it's this uninhibited sound that has also attracted the likes of other notable musicians. T3 of J Dilla's Slum Village calls HEATWEAVER "mad fresh." Lettuce drummer Adam Deitch says, "The swing that J Dilla made famous on an MPC beat machine in the late '90s is embedded in Jaw Gems' musical DNA, just as much as soul and funk. They have created a psychedelic, jazz-rooted, West African feeling." Lyle Divinsky of Colorado's The Motet has declared them his "new favorite band" and describes their sound as "a completely unique brew of hip-hop, jazz, funk, avant-garde, and classical music, steeped in originality and psychedelia." Since the release of their debut album, Blades Plural, Jaw Gems has gone on to share stages with icons such as STS9, Lettuce, and Daedelus. The band also emphasizes matching their work with video. Some examples include Akai Floss, which reached over 7,000 views independent of any label or premiere. Stay tuned for a full tour announcement coming soon.
Event Showings
Click the calendar icon below to add the event to your calendar.
This event has already occured.
Links & Resources
CarolinaTix.org is not responsible for any information, links, buttons, or pricing on external websites.