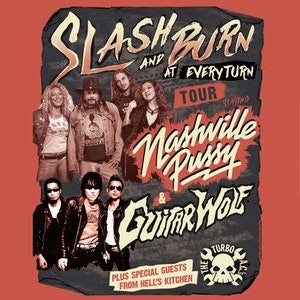 Buy Tickets Now
If you prefer to buy tickets over the phone, please call: 704.372.1000
Nashville Pussy + Guitar Wolf
May

10

, 2019
•
Neighborhood Theatre
Pricing:

$18.65 in advance - $3 Under 21 Surcharge at Door - Valid ID Required for entry (under 18 permitted with parent)

Presented by:
Overview
"If there's ever been a better band to open for Motorhead, I've not heard them!"—Lemmy, when asked about NASHVILLE PUSSY

Now, there's a temptation to let the above quote stand alone and just go to the nearest pub. What can i possibly add to God's words? Isn't that a sin anyways? Well, while you're pondering that predicament here's another quote to suck on.

"Seeing Nashville Pussy is as close to seeing ACDC in the 70's as you're going to get"— from The Story Of The Album Highway To Hell by Joe Bonomo

For those of you who have been living under a rock, let someone who lives "for ROCK" quickly educate you about the best rock band I've ever seen–NASHVILLE PUSSY. In fact a great place to start would be the band's brand new cd compilation TEN YEARS OF PUSSY on SPV. This 22 track monster takes the best studio tracks of the last decade and even throws in a live bonus ep taken from a blistering 2009 show at Nottingham – a show I was privileged to be at! But I must first warn you, TEN YEARS OF PUSSY is the "ultimate rock n' roll party cd!"- you can quote me on that one. Once you put it on you'll be either be dancing, fucking, or fighting. Maybe all at the same time.

NASHVILLE PUSSY hail from Atlanta, deep in the heart of "the BBQ NATION" and sound like ACDC slap boxing with LYNYRD SKYNYRD while MOTORHEAD watches. Formed by husband and wife guitarists Blaine Cartwright and Ruyter Suys, NASHVILLE PUSSY rose out of the ashes of Cartwright's former band NINE POUND HAMMER in 1997. Since then they have played 1,000's of gigs in 40 different countries, gathered a GRAMMY nomination, and have toured with; MOTORHEAD, ZZ TOP, LYNYRD SKYNYRD, SLAYER, and a host of other heros who became instant fans. Ruyter was recently voted one of the best female rock performers ever. Together with human metronome drummer Jeremy Thompson, NASHVILLE PUSSY have tolerated numerous labels, trends and bass players. And, when counted out, have consistently pulled off resurrections that make Jesus look like a rank amateur.

The 16 studio tracks from TEN YEARS OF PUSSY are taken from their last few releases, highlighting the band's most relevant work of their decade history on label SPV. UP THE DOSAGE (2014), featuring rock solid bassist Bonnie Buitrago, has been called "NASHVILLE PUSSY'S BACK IN BLACK" and was Pick Of The Week on THAT METAL SHOW. FROM HELL TO TEXAS (2009) was recorded at WILLIE NELSON'S studio in Texas and featured some of the band's strongest songwriting to date. And GET SOME (2005), was the first SPV release and the first collaboration with DANIEL REY, and has more hooks than a hillbilly's tackle box. And of course the bonus live CD includes the ultimate version of NUTBUSH CITY LIMITS with special guest Ron Heathman from THE SUPERSUCKERS on guitar.

But enough history. If you want history check out Wikipedia. This is Rock n' Roll! Put on TEN YEARS OF PUSSY and celebrate the band's recent past and while looking forward to rocking with them in the near future. I know I'll be there!!

By Wayne Robins
GUITAR WOLF
A lot of japanese Rock'n roll fan's really look up to Guitar Wolf.
They are Rock'n roll heroes in existence.

They are special to us like no other.
They have been making a lot of legends and playing sound the impulse as always from 90s.

Their music is very extreme and very loud; just like Rock'n roll should be. Seiji's lyrics have a sense of individual humor and evoked a sense of "Galaxy" & "The Showa".

The three guys cover themselves with a black leather that their sound is the same as a long time ago.
They are always prusuing their style.
Their perseverence had an effect on each others.
Guitar Wolf has always pushed forward, beyond the boundaries of any one-dimensional rock trio.
They will go on increasing Guitar wolf avid fans all over the world.

Guitar Wolf were formed in 1987.
Originally formed by Seiji and Billy (Bass,Vo).
After that, Toru has joined Guitar Wolf.
Goner Records(independent label based in US,Memphis)released "Wolf Rock",Guitar Wolf's debut LP, in 1993.
After that,they signed up a contract with "Matador Records"(A Representative independent label of US)

In 1997,They debuted with a major label " Ki/oon Records" in Japan. And, they released "狼惑星" at the same time.
Guitar Wolf has released 12 albums to this day.

And,they played not only Japan but also US,EU,AUS and Southern America.
They work on a worldwide level.

In 2005, Billy died.
Almighty U.G and Hikart had joined Guter Wolf.
After then, GOTZ is new menber in 2018.
He has become a permanent member of Guitar Wolf and now rounds out the trio which currently consist of band members Seiji (Guitar Wolf): GOTZ(Bass Wolf); and Toru (Drum Wolf).
Event Showings
Click the calendar icon below to add the event to your calendar.
This event has already occured.