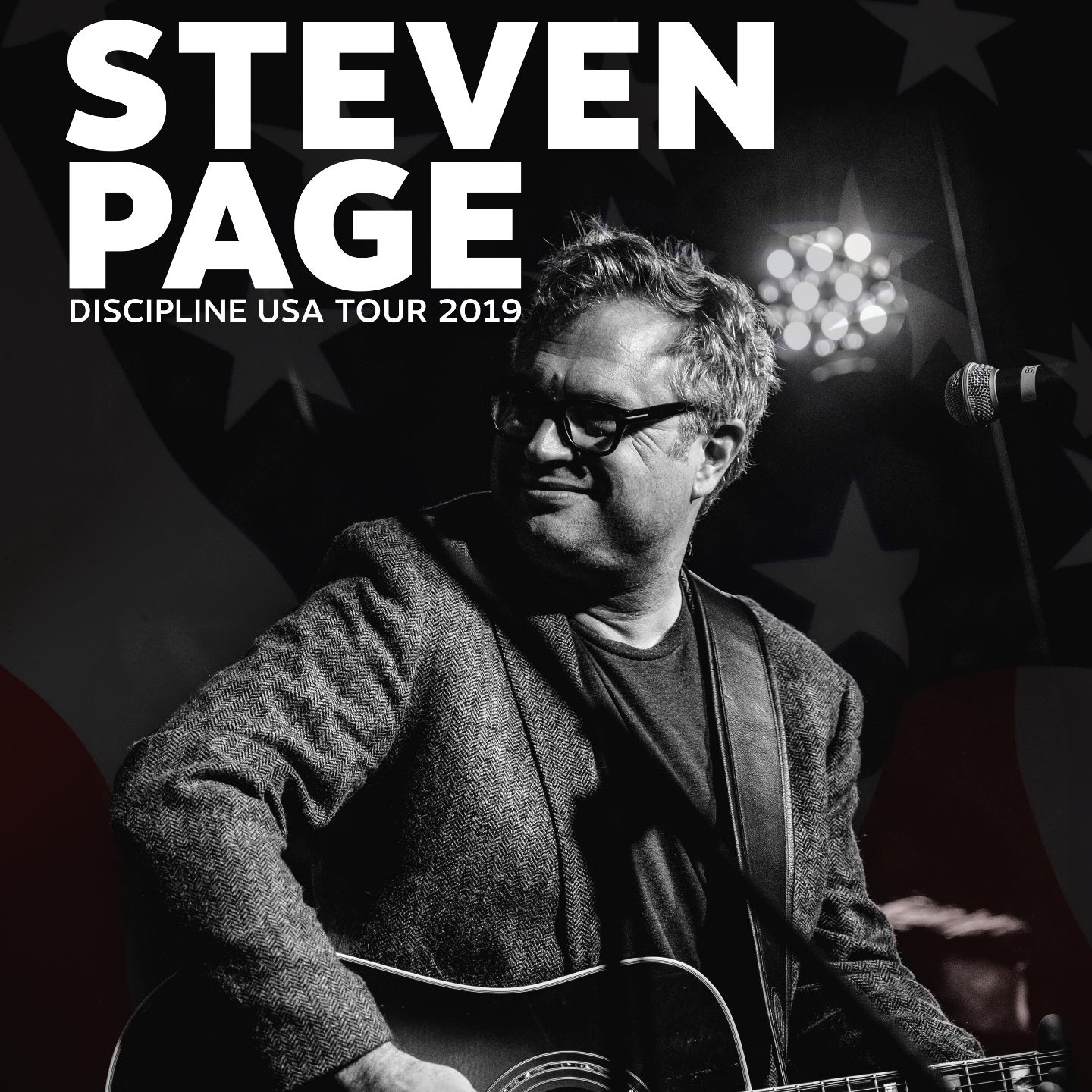 Buy Tickets Now
If you prefer to buy tickets over the phone, please call: 704.372.1000
Steven Page
Opener: Dean Friedman
Oct

12

, 2019
•
Stage Door Theater
Pricing:

$32.50 in advance, $37.50 day of show
Overview
Steven Page's distinctive and powerful tenor is among the most instantly recognizable voices in popular music. A member of the Canadian Music Hall of Fame with former bandmates, Barenaked Ladies, Steven Page reunited with the band he co-founded for their induction at the 2018 JUNO Awards – a night capped off by an exhilarating two song performance.
With a strong focus on his own career, Steven Page is busy.
A new album, his fifth solo effort, DISCIPLINE: HEAL THYSELF, PT. II, was released in 2018 – a year that saw Steven tour the UK & Ireland and undertake the most extensive US Tour of his solo career.
Early 2019 is all about Canada. The year started with a highly successful East Coast tour with Symphony New Brunswick and in May, Steven crosses the country, from Quebec to British Columbia (preceded by a gig in Whitehorse, YK in April) with trio members Craig Northey (Odds) and Kevin Fox. Fans in Toronto, Vancouver and Victoria will see an even more spectacular show with the trio being supported by a full rock band and horn section – Steven Page's dream team!
Steven Page and his trio mates return to the US in June for a mini-tour with stops in Syracuse, NY, Port Clinton, OH, Ann Arbor & Spring Lake, MI, and Warrendale, PA. More US dates are planned in the fall.
Since becoming a solo artist, Steven Page has been carving out a diversified niche for himself that expands beyond recording and performing through an exhausting array of projects in music, film, theatre and television. He has composed six Stratford Festival scores, has collaborated and toured North America with Toronto's innovative Art of Time Ensemble and performs with his rock star pals as a member of the Trans-Canada Highwaymen. Steven journeyed across Canada and the U.S. as host of TV's The Illegal Eater and became a Chopped Canada Champion in 2017. Steven Page recently appeared in the award-winning Riddle Films production of Dreaming of a Jewish Christmas and is currently working with playwright Daniel MacIvor on a musical commissioned by the Stratford Festival called Here's What It Takes, a theatre production featuring Page-composed songs.
Still the dynamic stage presence he's always been, Steven Page is the consummate entertainer, performing music from both his solo career and his BNL years.
Website: www.stevenpage.com Facebook: www.facebook.com/stevenpage Twitter: @stevenpage
Instagram: www.instagram.com/stevenpage/
New York Times
"The artist has to 'keep pushing through', and it isn't easy, but Mr. Page has the talent to make that effort worthwhile."
Huffington Post
"[Steven Page] sings with heartfelt verve in this highly entertaining show"
Spill Magazine:
"Song after song, Page demonstrates superb songwriting and amazing pop sensibilities, supported by strong arrangements and production. This album is for everyone: BNL fans, Steven Page fans, pop music fans. Music for the masses delivered by that unmistakable tenor voice. You need to hear this."
Exclaim:
"With breathtaking range and remarkable cohesion, Steven Page nudges the genre and the rest of us in this way to be more active, ambitious, and engaged. Discipline: Heal Thyself, Pt. II is a masterwork."
The Record
"It would take a game-changing, incredibly strong record to help Page shake the baggage of his former band. But this record [Discipline] is it."
Dean Friedman first marked his entry into pop consciousness with the Top 20 chart success of his infectious hit single, Ariel, a quirkily irresistible and uncategorizable pop song about a free spirited, pot-smoking, vegetarian Jewish girl in a peasant blouse who lived, as the lyric goes, "...way on the other side of the Hudson".
Friedman scored again with the release of his follow up album, "Well, Well," Said the Rocking Chair', and the now classic hit single, Lucky Stars. This magical duet, performed with singer, Denise Marsa, zoomed to the top of the UK singles charts, going instantly gold. Lucky Stars paved the way for a slew of Friedman hits, including familiar radio staples such as Lydia, Rocking Chair, McDonald's Girl and Woman of Mine.
Friedman's consummate songwriting and performing, have earned him a loyal international following, devoted to the sophisticated, funny and profound work of a master songsmith.
"Stunning Musicianship" - Hot Press, "Songsmith Extraordinaire!" - Music Week , "An Amazing Talent" - The Sun, "An American Classic" - Tribune, "The Soundtrack of Our Lives" – NY Times, are just of few of the superlatives used to describe Friedman's powerfully unique and original talent.
Friedman's recent run at the Edinburgh Fringe Festival garnered similar critical praise:
"Every song in this Edinburgh show is a classic. You won't see a better show." – London Theatre Guide. "Sophisticated and humorous work from an old master!" Scotland on Sunday. "With his mix of jaunty ditties, sentimental ballads and bashful charm, Friedman is the pop troubadour of choice." The Scotsman. "Dean Friedman is entirely unique and utterly brilliant" – ThreeWeeks.
Though Friedman's next single, McDonald's Girl was officially banned by the BBC for mentioning the tradename of the fast food restaurant, the irrepressible pop song has been successfully covered by a number of acclaimed contemporary bands including the Blenders (Universal) and top canadian band, Barenaked Ladies [WEA]. (BNL member, Steve Page, sings background vocals on Dean's recent double album.) The song has become a viral YouTube video hit, and a staple of high-school and college a capella groups, around the world – including Harvard's Din & Tonics and Yale's Mixed Company - spawning more than 40 different video versions on YouTube; and now, three decades after being banned, the song has just been licensed by the McDonald's corporation to be featured in a national TV/Radio campaign:"McDonald's Girl".
Friedman composes and produces music soundtracks for TV and film, including five seasons of Central TV's hit series BOON and the soundtrack to the underground cult horror film classic I Bought A Vampire Motorcycle [Hobo Films/U.K.]. Other credits include Nickelodeon, NBC, BBC and FUJI TV.
Despite Friedman's apparent absence from the popular music scene, evidence that his name and music have made a lasting impact on pop music can be found repeatedly in popular media: The British band Half Man Half Biscuit released a best selling EP containing the oddly titled, The Bastard Son of Dean Friedman. (Dean emphatically denies this claim.) Friedman extracts his revenge on his CD, Submarine Races with his song, A Baker's Tale, the hitherto untold story of Nigel Blackwell's dubious origins. With his influence evident in the music of contemporary bands like Barenaked Ladies, the Blenders and Ben Folds Five, Friedman states, 'It's nice to see my music has made an impact on a new generation of artists.'
Friedman also produced and presented BBC Radio Scotland's acclaimed radio series, 'Real American Folk', which has featured American Folk icons such as Christine Lavin, David Bromberg, John Prine and Steve Forbert.
One of Friedman's recent tours was almost cancelled when it was announced that his tour sponsor www.goldenseeds.co.uk would distribute packets of cannabis seeds to the first ten people that purchased CD's at each of Friedman's gigs. The controversy was only resolved after Friedman promised not to distribute the seeds within 50 yards of the venue premises. (click to see Songwriter's Cannabis Controversy). [note: it is legal to possess cannabis seeds in the UK as long as they don't get wet and germinate!]
Friedman's latest CD, '12 Songs', has been receiving rave reviews from fans and critics, alike. The long awaited, fan-funded, studio album contains 12 brand new original tracks, lyrical soundscapes and story-songs, bursting with life, love and survival in a surreal world. It contains instant classics like, 'Your Pretty Face', 'Malala', 'I Could Fall For You', 'Then You', 'The Ducks of St Stephen's Green ', and more. This stunning recording further confirms Friedman's status as one of the finest songwriters of his generation.
Friedman, 64, makes his home in Peekskill, NY where he lives with his wife, Alison, and Lola, the smallest dog in the world.
Event Showings
Click the calendar icon below to add the event to your calendar.
This event has already occured.