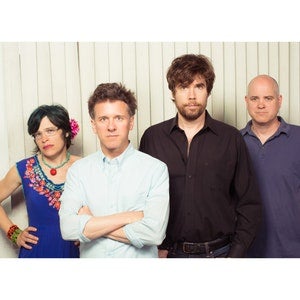 Buy Tickets Now
If you prefer to buy tickets over the phone, please call: 704.372.1000
Superchunk
Oct

27

, 2017
•
Neighborhood Theatre
Pricing:

$16.78 in advance

Presented by:
Overview
Since releasing their first 7-inch in 1989, Superchunk has run the gamut of milestone albums: early punk rock stompers, polished mid-career masterpieces, and lush, adventurous curveballs. Conventional wisdom holds that a band two decades into its career can only rehash or reinvent, but with Majesty Shredding, Superchunk has done something entirely different. Neither a return nor a departure, Majesty Shredding telescopes two decades into 41 indelible, action-packed minutes. It is the sound of youthful exuberance fine-tuned with grown-up confidence. And it may very well be Superchunk's best record yet.
Though it has been nine years since Superchunk released their last full-length album, Here's to Shutting Up, Majesty Shredding is the result of a focused burst of creativity brought on by the band's recent volley of live performances. Having cleared the deck of odds and sods with last year's Leaves in the Gutter EP, Superchunk frontman Mac McCaughan set about to write a batch of songs that would capture the spirit of the band's live shows. From 1997's Indoor Living through Here's to Shutting Up, Superchunk had written most of their records together, building their songs through collaborative writing and rehearsal. But, in an effort not to overthink their new material (and because drummer Jon Wurster lives a couple hundred miles away from the rest of the band), Superchunk approached Majesty Shredding the same way they approached their early records: McCaughan provided skeletal demos to his bandmates, who in turn fleshed out the songs during a brief period of rehearsal and recording.
This sense of purpose is enhanced by the presence of Scott Solter, an engineer and producer known for coaxing exceptional performances out of the artists he works with. Majesty Shredding is a powerful document of Superchunk as a band, augmented as needed with well-placed harmonies, keyboards, and guitar overdubs (and some backing vocals courtesy of the Mountain Goats' John Darnielle). Each song seems perfectly suited to its respective treatment, as the band moves lithely from shout-along rave-ups like 'Crossed Wires' to melancholy slow burners like 'Fractures in Plaster.' As always, Superchunk strikes a unique and effortless balance between melody and force, craft and spontaneity, the energy of youth and the wisdom of experience. Majesty Shredding is Superchunk's most thorough and thoughtful record, and it hits like a punch in the gut.
Event Showings
Click the calendar icon below to add the event to your calendar.
This event has already occured.