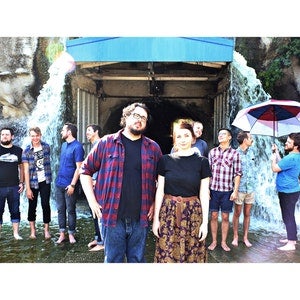 Buy Tickets Now
If you prefer to buy tickets over the phone, please call: 704.372.1000
The Oh Hellos with special guest Samantha Crain
Oct

26

, 2018
•
Neighborhood Theatre
Pricing:

$16.78 in advance - $3 Under 21 Surcharge at Door - Valid ID Required for entry (under 18 permitted with parent)

Presented by:
Overview
The Oh Hellos are Maggie and Tyler Heath, intentionally-independent self-produced musicians hailing from the great state of Texas. The siblings bend and blend styles and genres into a unique mixture of eclectic folk rock. Joined on stage by a rotating cast of characters, sometimes as many as 13, The Oh Hellos weave a sound that is one moment intimate, the next explosive and joyful.
SAMANTHA CRAIN
"To make an impact as an artist, you have to make people a little uncomfortable," says Samantha Crain. The musician believed so strongly in this ethos, that she started by shaking up her approach to songwriting. By radically rethinking the way she wrote and recorded her fifth album, 'You Had Me at Goodbye' (out March 24 on Ramseur Records), Crain has managed to put her wholly original aural fingerprint on pop music.

"Oh, Dear Louis," the release's first single, makes no mistake of Crain's new voice. Brightly harmonic, it deftly bridges the song's off-kilter rhythms with sharp strings. "Many pop songs have a lot of cool key changes, modulations, clever lyrics," she says. "I wanted to show that pop music isn't usually common, uneducated, or uncreative."

Until now, the musician's soulful-nightingale voice had been invested in plaintive, rootsy compositions cut from the Bob Dylan cloth. Based on word of mouth, the organic success of Crain's debut, The Confiscation, an EP of evocative narratives, had crescendoed into 2014's Kid Face, for which Rolling Stone singled her out as an Artist to Watch. By the time she dropped the gracefully outspoken Under Branch & Thorn & Tree a year later, Crain—who by then had toured with the Avett Brothers, First Aid Kit, and Neutral Milk Hotel—was anointed one of Oklahoma's most earnest, underrated storytellers since Woody Guthrie.

So expanding her repertoire with 'You Had Me at Goodbye' was as much an exercise in bilking expectations as it was maturing into a gutsier artist. "I got described as this girl who sits in a cornfield and writes songs," she says. "And I went with it, because I didn't really know who I was. I realize now that I missed out on a lot of creative freedom by treating my songwriting so preciously."

Before penning this album, Crain began listening to a heavy rotation of Cyndi Lauper and David Bowie. She admired Lauper's brassy, unhinged singing style. "Her voice does these things, swoops and moves around—it's a pure expression," Crain notes. "With Bowie, there was a weirdness to his music, but it was still pop. I was studying his key changes and his song structures."

Weird is something she has always been comfortable with. Growing up in rural Oklahoma, "I stuck out like a sore thumb in this conservative, Christian culture," says Crain, who began by writing short stories as a teen, later fitting those words into melodies. "It's not particularly 'normal' in this part of the country to walk around with yellow hair and be a liberal activist." Much of 'You Had Me at Goodbye' is about owning, mining, then accepting this difference.

"Oh, Dear Louis," for instance, is technically about the topic of Crain's awkward, if well-intentioned, attempts at comforting a depressed friend. The track, she says, "is how mixed up my brain gets when I'm trying to figure out how to act." She proudly adds that it is accompanied by an equally inappropriate B-movie inspired video: "I wanted to have some fun with it, make it a campy, ridiculous horror film."

Meanwhile, the seemingly chipper opening track, "Antiseptic Greeting," is actually a tongue-in-cheek retort to people who complain about her Resting Bitch Face. ("People are out there living their lives, with things on their minds," she says. "Don't make it about yourself!") In contrast, "Wise One" unfolds like an unlikely romance featuring an oddly charming clarinet solo. "Every time I try to write a truly giddy song, it'd end up turning into a break up song by the chorus," she says, laughing. "My idea was to start out negative, then see if it could successfully turn into a love song by the chorus."

She gets away with the unexpected thanks to 'You Had Me at Goodbye''s timeless, analog foundation, recorded by John Vanderslice (Spoon, The Mountain Goats). "He's kind of become my recording guru," says the indefatigable Crain, who penned the tracks at home over five months between shifts at a day job, then recorded the album in a mere seven days at Vanderslice's Oakland studio, Tiny Telephone. (The producer, who worked on her past two albums, this time imbued her acoustic-based compositions with a fuller sound using synthesizers, strings, and woodwinds.) "He brings out the best in my creativity. It's like having another band member with you. He thinks in musical terms, not just in terms of frequencies."

This also helped her be more free with her singing voice. The stark "Loneliest Handsome Man," about a melancholic friend, finds her tempering melody into a hymnal hush. One of the album's crowning achievements, "Red Sky, Blue Mountain," is a powerfully lilting lullaby. An homage to her Native American heritage, she wrote the song in her tribe's Choctaw language. "I have started writing new traditional songs," she says, "in hopes that they will help keep our heritage alive."

Eleven-or- so years into her career, Crain has found the deepest inspiration in just letting go. "Now that I'm older, I'm figuring out how to relate to where I'm from and how I've grown up, in a way that isn't so simplified," she says. "I made this record as a healing mechanism for myself and to give people an idea of who I am, where my brain is, where my heart is."
Event Showings
Click the calendar icon below to add the event to your calendar.
This event has already occured.