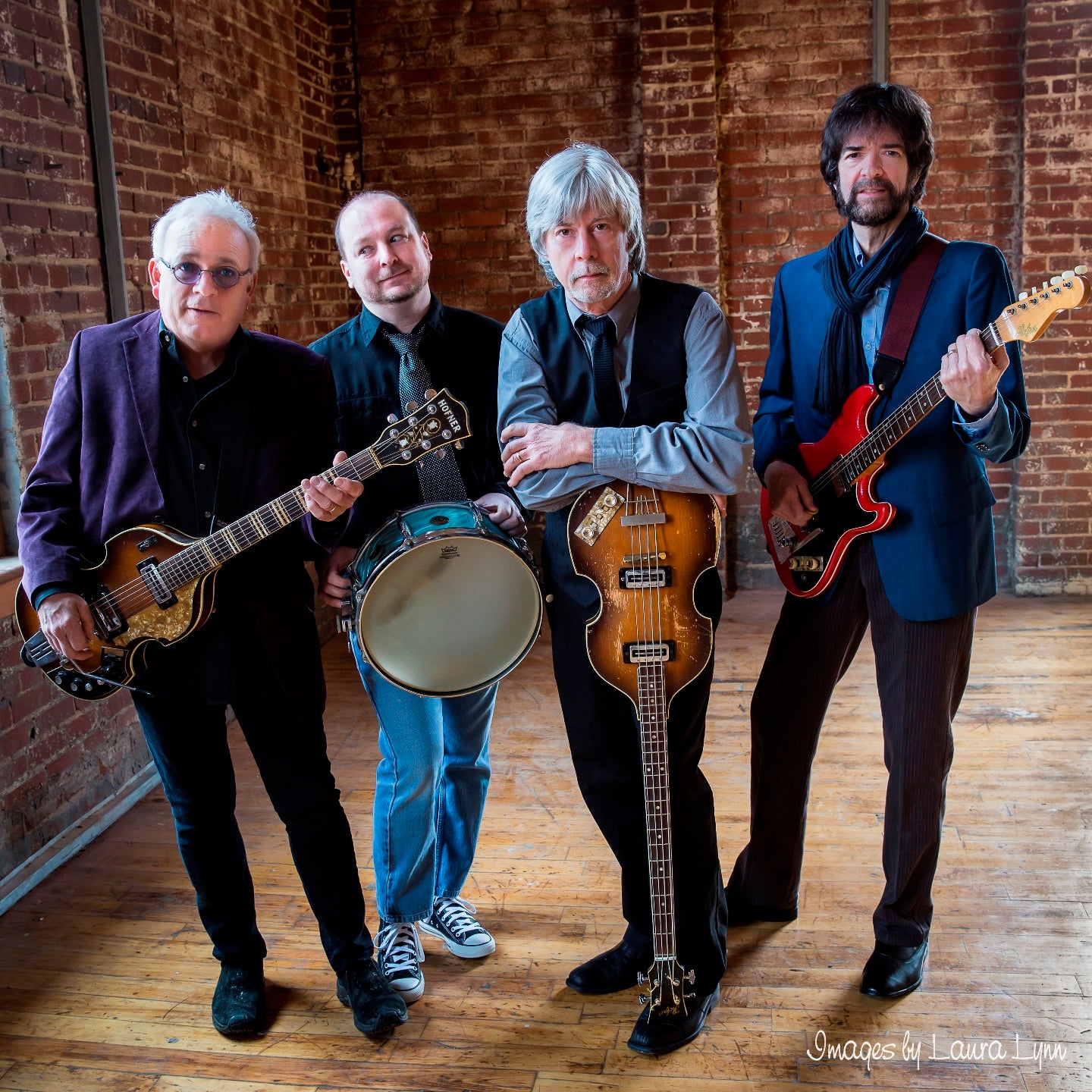 Buy Tickets Now
If you prefer to buy tickets over the phone, please call: 704.372.1000
The Spongetones 40th Anniversary Reboot
Aug

14

, 2021
•
McGlohon Theater
Pricing:

$20 - $30

Presented by:
Overview
This story begins in 1978, when four Charlotte musicians banded together for a one-night stand in a small bar to recreate the British Invasion music of their youth. A lot had happened in nearly a decade after the demise of the band who had defined that era.
The Beatles' music was not being heard much on the radio. And Jake Berger, Steve Stoeckel, Rob Thorne, and Pat Walters (the musicians above) had been playing professionally all that time and wanted to hear it played well. They suspected they weren't alone.
And they were right. The 30 or so folks who came to that first performance wanted more, and word spread about this outfit that could play amazing covers of tunes by the Yardbirds, the Animals, The Who, The Hollies, and of course the Beatles.
This story might have ended there, but for the arrival of a replacement guitarist: Jamie Hoover, a fan and (as luck would have it) a composer, recording engineer, and producer who saw the potential for mining the talent in this band for more than playing covers. The band recorded a 45 record at a small facility and then two LP records at Reflection Studio, with Jamie producing and partner Mark Williams engineering.
That was the real beginning, leading to
over 13 albums, and numerous compilations
performances in LA, New York, DC, and Tokyo among other places, playing solo and opening for The Hollies, the Kinks, Rick Springfield, and other world-renowned acts
reviews in Rolling Stone, Billboard, Goldmine, CMJ, Tower Pulse, and other major magazines
four singles rated on American Bandstand
Sony Records And Airmail Recordings releases in Japan.
NBC World News Now Theme for the "Skinny Now" segment using their song "Skinny".
induction into the Power Pop Hall of Fame.
When Rob left the band in 2014, another fan, Chris Garges stepped into the drummer's seat (coincidentally, yet another composer, engineer, and producer, with his own recording studio).
In a lovely bit of synchronicity, Jamie's first performance with The Spongetones was April 23, 1980—nearly forty years to the day of this concert.
The nightclub at the beginning of this story is long gone, as is the studio where they made their first two records.
But The Spongetones are still here, playing and singing the music they have loved for these 40 years. And they're here tonight, inviting you all to share in their joy of this occasion.
The Spongetones are:
Jamie Hoover
Pat Walters
Steve Stoeckel
Chris Garges
"The SpongeTones are without a doubt the finest example of pure, unadulterated Beatlesque joy to emanate from the indie pop underground." – Goldmine Magazine, November 2006.
"… sounds like the soundtrack to a party so good it could never happen in real life." Parke Puterbaugh, Rolling Stone, Review of Beat Music, September 15, 1983
"…, the SpongeTones' delightful tributes to the mist-shrouded Mersey era are so well crafted that they might well have been hits back then. Certainly they deserve to be heard here and now. " – Kurt Loder, Rolling Stone, Review of Torn Apart, May 10, 1984
"…what they are and always have been: one of the greatest groups that power pop has ever produced. The Spongetones' music is a treasure to be savored, an enduring pleasure, a splendid time guaranteed for all….Today, The Spongetones finally take their well-earned place in The Power Pop Hall Of Fame. And you know that can't be bad.." Carl Cafarelli Goldmine Magazine contributor, Power Pop Hall of fame 2017.
Event Showings
Click the calendar icon below to add the event to your calendar.
This event has already occured.