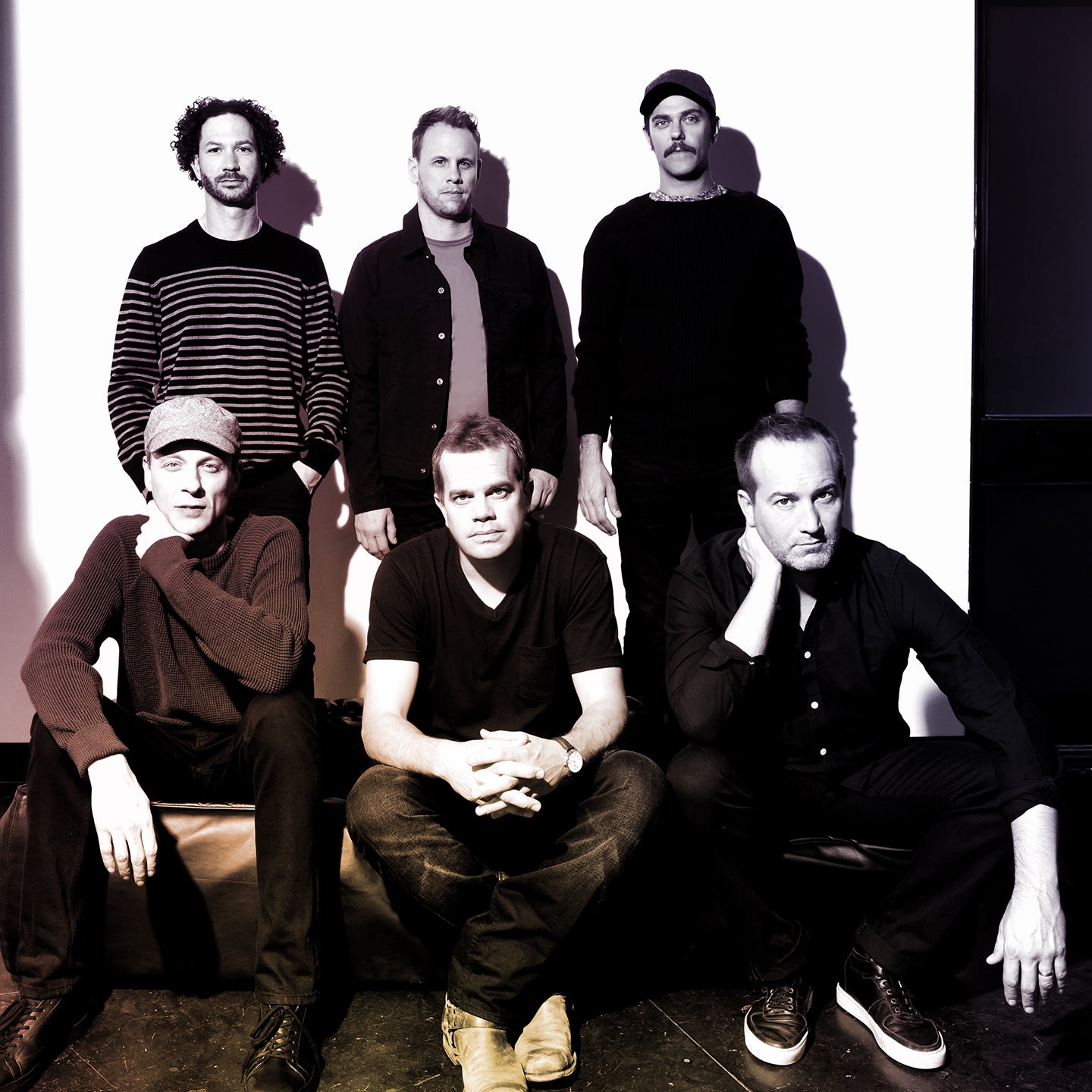 Buy Tickets Now
If you prefer to buy tickets over the phone, please call: 704.372.1000
Umphrey's McGee
May

10

, 2019
•
Atrium Health Main Stage @ Romare Bearden Park
Pricing:

$35

Presented by:
Overview
Gates open at 5pm. Umphrey's McGee will begin playing their sets at 8:00pm.
Opening Act: G. Love and Special Sauce - 6:30pm
About Umphrey's McGee
After 18-plus years of performing more than 100 concerts annually, releasing nine studio albums and selling more than 4.2 million tracks online, Umphrey's McGee might be forgiven if they chose to rest on their laurels. But then that wouldn't be consistent with the work ethic demonstrated by the band, which consistently attempts to raise the bar, setting and achieving new goals since forming on the Notre Dame campus in South Bend, Indiana, in 1997. After releasing their eighth studio album, Similar Skin, the first for their own indie label, Nothing Too Fancy (N2F) Music (distributed by RED), the group continued to push the envelope and test the limits. The London Session, was a dream come true for the members having been recorded at the legendary Studio Two at historic Abbey Road. The stealth recording session yielded 10 tracks in a single day, proving once again, the prolific UM waits for no one.

As a follow up to The London Session, the envelope pushing continues with the November 11th release of ZONKEY. Umphrey's McGee has been arranging and performing original mashups live for over eight years. It was only a matter of when, not if, some of those innovative concoctions would find their way into a studio. An album of 12 unique mashups, conceived and arranged by the band, ZONKEY is as seamless as it bizarre, playful as it is razor sharp. Bits and pieces of classic songs are culled from 40-plus years of popular music from 70s Reggae to 80s Pop to 90s Metal and everywhere in between. From Radiohead mashed with Beck, The Weeknd with Fleetwood Mac, Talking Heads with Bob Marley, Metallica with Gorillaz . . . nothing is off limits.

The original Umphrey's McGee played a mix of originals and cover songs, waiting just eight months to release their debut album, the cheekily titled Greatest Hits Volume III. Their initial "proper" recording, Local Band Does OK, came out in 2002, followed shortly afterward by an appearance at the first-ever Bonnaroo in Tennessee, selling more albums than any other band on the bill. The 2007 double album, Live at the Murat, earned a four-star review in Rolling Stone and a Jammy for Best Live Album.

Despite attempts at categorizing UM, the band has devoted its craft to making their devoted followers feel as if they are part of something larger, through such technology-fueled innovations as fan-curated sets, the immersive high-end audio offering, "Headphones & Snowcones," where the pristine sound of the live soundboard mix is piped wirelessly through high-end personal monitor systems and headphones, as well as making every live show since 2005 available via their live music portal UMLive.net. UM were also the first group to launch its own single-artist streaming service.

Finding themselves in London for three shows at the Brooklyn Bowl in June 2014, the idea of recording at Abbey Road was first proposed by Umphrey's producer Manny Sanchez, a notion, as Bayliss told Rolling Stone that seemed as likely as "being asked to give a sermon at the Vatican."

"It wasn't a goal," he explains, "because it never seemed like a possibility." But never to be bound by what seems possible, UM secured a coveted day at the world's most famous recording studio and dove in headfirst.

Twelve hours after first setting foot in Abbey Road Studios, just before midnight, Umphrey's McGee left the historic room with their own new album, The London Session, what Rolling Stone dubs "a historical primer, an evolution story inside 51 minutes."

This November 11th, prepare to get Zonkey'd. An album unlike any previous Umphrey's McGee effort, this unique take on the mash-up concept is yet another example that there aren't many places Umphrey's McGee won't take you.

Umphrey's McGee are more than just a rock band -- through nearly two decades, they have proven to be on the cutting-edge of both music and technology, super-serving their fans through a community that stretches from the campus of Notre Dame to the hallowed halls of Abbey Road.
About G. Love
"When you get the spark, you got to ride that energy," says G. Love, and that spark certainly ignites on his 10th studio full-length Love Saves The Day. He calls the new release "the fullest realization of the hip-hop blues" that he first pioneered with Special Sauce in the early '90s. The album, due out October 30 on Brushfire Records, not only features G. Love's long-term Special Sauce rhythm section – upright bassist James "Jimi Jazz" Prescott, and drummer Jeffrey "The Houseman" Clemens – but also prominent guest performers including Los Lobos guitarist David Hidalgo, Lucinda Williams, Citizen Cope, Ozomatli, DJ Logic, Money Mark, Zach Gill and Adam Topol.
To create their down and dirty "trashcan blues" sound, G. Love and Special Sauce returned to Brushfire Records' Solar Powered Plastic Plant in Los Angeles. The band was excited to reteam with Sugar engineer and producer Robert Carranza (Jack Johnson, Beastie Boys, Mars Volta). They recorded live with few edits to capture the immediacy of the music: G. Love making his guitar snarl and his harmonica moan, bassist Prescott bringing nimble funk to the bottom end and Clemens' drum work crackling with power. "The music," G. Love enthuses, "jumped off the tape."

The new album completes the trilogy for G. Love that started with 2011's Fixin To Die. That disc stripped his music down to its roots and saw him record with The Avett Brothers, while Sugar, in G. Love's words, "reconnected the blues with the electric side" and reunited the original trio to create the band's signature style of blending John Lee Hooker blues with "Golden Era" hip-hop beats. On Love Saves The Day the group dives even deeper, making the grooves heavier, the music rawer and the performances more authentic.

G. Love also feels Love Saves The Day is his most rock 'n' roll record yet. Just listen to the title track that opens the album and you'll hear why. This blast of furious blues, powered by David Hidalgo's wicked guitar work, stands toe-to-toe with the classic work of Cream and the other blues-inspired bands of the '60s and early '70s. Hidalgo, a returnee from the Sugar sessions, plays on two other songs, "Dis Song" and "That Girl." Besides being the first tracks recorded, G. Love sees these three tunes as forming the core of the album. They also lead off the release and set the record's rugged, raucous tone.

This wonderfully unruly spirit flows through the revved-up rendition of the old Leadbelly tune "New York City," where G. Love does a delightfully ragged duet with celebrated singer-songwriter Lucinda Williams. On the mesmerizing "Muse," which arose from an all-night writing session he had with his old pal Citizen Cope, G. Love's sinewy slide guitar drives the tune's southern rock/hip-hop hybrid groove. "Baby Why You Do Me Like That" kicks off with scratching from another old friend, D.J. Logic, and features the album's heaviest hip-hop beats. Adding to the groove on "Muse" and "Baby…" is the energetic horn work supplied by L.A. band Ozomatli; however, their contributions really shine on "Let's Have A Good Time," a super funky jam that could have easily been a lost James Brown gem.

Although "Let's Have A Good Time," along with the catchy, power-of-love ode "Peanut Butter Lips," rank as the lighter tunes on the album, the overall lyrical mood, as G. Love easily admits, tends to favor the darker side. Even the seemingly optimistic title track turns heavy towards the end. Standout cut "Back To Boston," which examines a troubled relationship, was written on a drive from New York City to Boston. Longtime fans will recognize the tune from the acoustic EP Bloodshot & Blue, but G. Love wanted to give it the full-band treatment, with the new version showcasing frequent collaborator Mark Boyce's jazzy organ work. The rough-hewn performances on tracks like "That Girl," "Pick Up The Phone" and "R U Kidding Me…!" further reflect the lyrics' raw emotions, with the sharp-tongued "Dis Song" representing the peak of, as G. Love calls it, "pissed-off-ness."

Whether angrily railing about a girl with a "shotgun tongue" in "Dis Song," joyfully leading a party celebration in "Let's Have A Good Time," or solemnly addressing love woes on the solo acoustic tune "Lil' Run Around," G. Love's vocals vividly express his torn-from-the-heart emotions. He has been putting more emphasis on his singing in the past few years, and feels his vocals on the new album are his strongest ever. G. Love admits that singing with Citizen Cope and Lucinda Williams on this album, and the great session singer Merry Clayton on Sugar, made him raise his game.

He certainly has come a long way in the 20 years since drummer Clemens discovered him performing in a Boston pub. The two started playing together and, after Clemens brought in upright bassist Prescott, G. Love & Special Sauce was born. Their self-titled debut, featuring the hit "Cold Beverage," wound up going gold. The band became known for their live shows and performed around the world. G. Love has played with and without Special Sauce over the years, but now the trio is back together and it feels right. G. Love believes the current manifestation of the band is stronger than ever and is riding a creative high, adding "and we didn't want to kill each other."

Love Saves The Day marks G. Love's sixth with Brushfire Records and he's thrilled with their relationship. He lauds label chief Emmett Malloy as someone driven by creativity first and whose aesthetic tastes he trusts. G. Love views today's music world as the Wild West, with "all the lines washed away;" however, his genre-blurring music now is more relevant than when he started. "It's a good time to be doing what we are doing," he asserts, noting Gary Clark Jr., Jack White, Robert Randolph and Galactic as some fellow keepers of the blues flame who "maintain the roots but push music forward."

G. Love proudly describes himself as a road dog who "will be touring until I fall off the earth" and plans to keep on pushing with Special Sauce from stage to stage. Whether Love Saves The Day makes one dollar or a million isn't a big concern to him. It stands as a huge success because he made the gritty, honest album that he intended by "keeping it raw, keeping it immediate, keeping it real." It's an approach that he has honed over the years: "be original and be true to what you do."
Event Showings
Click the calendar icon below to add the event to your calendar.
This event has already occured.