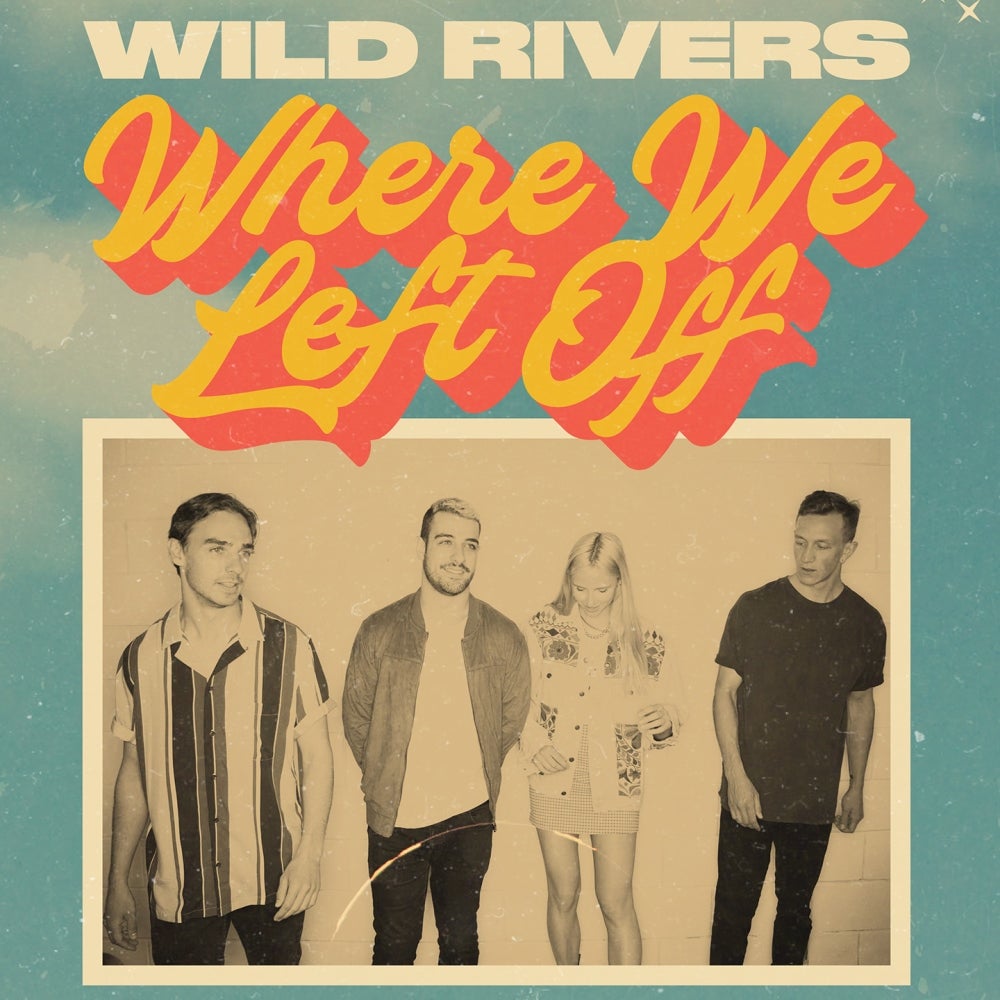 Buy Tickets Now
If you prefer to buy tickets over the phone, please call: 704.372.1000
Wild Rivers - Where We Left Off Tour
Aug

4

, 2020
•
Neighborhood Theatre
Pricing:

$16 in advance - $3 Under 21 Surcharge at Door - Valid ID Required for entry (under 18 permitted with parent)

Presented by:
Overview
WILD RIVERS
Wild Rivers immerse their folk-pop originals into the warm musical styles of the artists that influenced them. With over 100 million streams on Spotify, the four-piece band effortlessly blends exquisite harmonies, beautiful songwriting, and a captivating stage presence.
With exquisite harmonies, gorgeous melodies and emotionally charged, tightly crafted lyrics, Wild Rivers deliver their unique blend of folk-pop songs that are at once inviting and infectious. Their sound is an amalgamation of their various influences, from contemporaries like The Lumineers, Bahamas and Kacey Musgraves to the iconic storytellers of the 70s, like James Taylor, Neil Young and Fleetwood Mac. With over 100 million streams and counting, the Toronto four-piece has earned a dedicated live following thanks to their captivating stage presence.
Following the success of their 2018 EP Eighty-Eight, which received praise from the likes of Rolling Stone Country, PopMatters, Earmilk and No Depression, Wild Rivers is set to release "I Do" on August 9, 2019, an immediately anthemic track that showcases the band's trademark male/female harmonies to convey the self-inflicted emotional rollercoaster following a breakup. "'I Do' is about everything you tell yourself after a relationship ends. There's a denial that happens, when you convince yourself and your friends that you've moved on," the band explains. "Over time, you can get to a place where you come to terms with the fact that you do still care and miss these things, and there's a certain relief in that."
Wild Rivers is Khalid Yassein (vocals, guitar), Devan Glover (vocals), Andrew Oliver (guitar, bass) and Julien Laferriere (drums).
ALLMAN BROWN
Allman Brown has been hailed amongst today's most compelling new singer-songwriters, a preternaturally gifted vocalist, performer, and tunesmith whose own remarkable journey allows him rare access to the universal. DARLING, IT'LL BE ALRIGHT, the London-based Brown's long awaited sophomore LP, more than delivers on the promises made by such breakthrough singles as 2013's "Sons & Daughters" and 2017's acclaimed debut album, 1000 YEARS. Recorded in January 2019 with longtime collaborator Ian Barter (Amy Winehouse, Paloma Faith), the album marks an immense evolution in his artistry, its bold sonic approach providing the ideal backdrop to Brown's distinctive lyrical vision. Songs like "Home" and the passionate first single, "Shapes In The Sun," are both intimate and epic, their carefully etched power and passion built to soothe, arouse, and inspire genuine emotion and personal action.
"It's a really positive record," Brown says. "The world is in a state these days but there are still incredible things happening. A lot of people are speaking out and coming together, there's this counterforce to the endless tide of negativity we see every day. I wanted to feed into that, offer my own counterweight. So this record is about reassurance, about me putting some positive energy into the world."
Born and raised in Hong Kong before moving to London at age 11, Brown arrived in 2013 with the hit single, "Sons & Daughters" (performed with Liz Lawrence). The track proved a Spotify smash, with 10 million worldwide streams thus far as well as featured placement on multiple TV soundtracks. 1000 YEARS followed in 2017, earning Brown critical applause for his tender balladry and folk-fueled pop inspired by such like-minded artists as Bon Iver, Tracy Chapman, Paul Simon, and Feist. Brown spent much of the next year mired in the vagaries of negotiation, ultimately and happily signing with NYC's The Orchard in December. Though he yearned to record, Brown enjoyed the time with his family whilst also devoting himself to his work. Indeed, once he made peace with the slight delay, his songwriting provided a refuge, the extra few months turning out to be more reward than obstacle.
"It was just kind of an odd situation," he says, "but I was busy enough that it didn't feel too debilitating. I had a chance to sit with the songs, which was really helpful. It gave me the opportunity to invest a little bit more time in crafting them, so in the end, it all worked out quite well."
"Fired up" from touring America in early winter alongside Good Old War and Beta Radio, Brown finally set to work in January 2019, reuniting with 1000 YEARS producer Ian Barter at his home studio in Reading.
"I was missing him," Brown says. "I think Ian understands what I'm best at. We've become good friends; I've seen his kids grow up. Going to his feels like an extension of home. We spend half the time having deep theological discussions and the other half recording. It's great. Who wouldn't want to make a record with a good buddy?"
Brown and Barter worked quickly, their mission made easier by the extensive prep time that preceded them. The two multi-talented mates tracked live wherever possible, playing virtually all instruments on their own.
"We just hit the ground running," Brown says. "I don't like to take a long time to record, I'd rather work fast. I don't mess around."
Indeed. DARLING, IT'LL BE ALRIGHT is both grandiose and ambitious while still retaining an undeniable spirit of the homespun. Songs like "Bury My Heart" -- previously recorded twice before, but only now reaching the heights its creator intended – and the touching title track utilize acoustic textures and symphonic backdrops to showcase Brown's vocal power and admittedly sentimental songcraft.
"My heart's on my sleeve, really, in my songwriting," Brown says. "My strength is not in esoteric melancholy."
Which is not to say Brown veers away from the intensely private – far from it, in fact. Rather, much of DARLING, IT'LL BE ALRIGHT sees him going deep within his own experiences in an effort to touch something similar in us all. "Home" is a moving missive from the road while the gripping "Lonely Hearts, Los Angeles" uses his ongoing battle with tinnitus to capture a strikingly relatable sense of isolation. That said, "Natasha," the album's tender closing track, might well be its most personal by far.
"It's about my wife," he says. "It's just a totally intimate song. There no dissembling or pretending that the song is about everybody else – it's particularly about her. I really enjoy combining universality and intimacy in my songwriting. We live in a big world and I don't want anyone to be excluded. With 'Natasha,' they're not excluded, it's more like they have a window into my life."
For the immediate future, Brown's life will see him traveling the globe nearly non stop in support of DARLING, IT'LL BE ALRIGHT, touring both as solo act and with a full backing band. Brown has long put the same fresh energy that infuses the LP into his performances, interacting with his audience to ensure each and every show is a one-of-a-kind experience unto itself.
"Maybe the best thing about playing live is you never know what's going to happen," he says, "I was in Columbus, Ohio last year and someone shouted out, 'I think you're great, I've got a tattoo parlor down the road and if you want a free tattoo you can have one!' So I went and got a tattoo!"
The road Allman Brown has traveled thus far has taught him a great many life lessons, not the least of which is the true size of the small world in which we live. With DARLING, IT'LL BE ALRIGHT, this uniquely talented tunesmith has offered up a heartfelt musical gift to all of his 7.7 billion fellow humans, a collection of extraordinary small gems that might brighten modern life with irresistible charm, creative drive, and matchless conviction.
"I've got a wife and daughter and another baby on the way," Allman Brown says. "I don't want to complain – I want to make something people can feel energized by. Whether it's just feeling positive themselves or maybe they'll go and do something good, make some kind of change.
"I've grown up all over the world. I have family all over the world, friends of many different faiths. The world is a big old mix of people – I don't just want to write about my road in London, I want to write for everybody."
Event Showings
Click the calendar icon below to add the event to your calendar.